UNF professor recognized with Distinguished Professor Award
In recognition of his balanced history of teaching, scholarship and service, UNF Professor of Civil Engineering Adel ElSafty has been awarded the 2018 Distinguished Professor Award.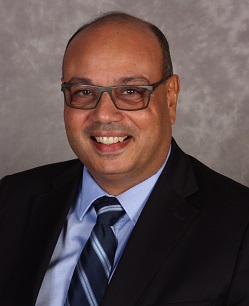 This award is presented annually by the UNF Faculty Association, though any professors who are potentially awarded must first be nominated by other students or faculty members.
ElSafty was reportedly nominated twice, placing as the runner-up in both 2016 and 2017.
"I am just honored and humbled to receive this nomination," ElSafty said. "I'm thankful for all this recognition… I didn't think it would work out, but I'm thankful it did."
ElSafty has been teaching at UNF for the last 13 years, and his ability to secure a foundation grant of $125,000 from the Precast/Prestressed Concrete Institute in 2009 helped to "get UNF's Civil Engineering program on the map." Since then, ElSafty has reportedly amassed approximately $2.5 million dollars in research funds for UNF in the span of 11 years by researching and collaborating with students and faculty, as well as other universities and industrial companies.
Additionally, ElSafty has published 88 papers in various journal publications, taught at six higher-education institutions outside of UNF and been invited to lecture overseas in Germany and Egypt.
Despite all of these achievements, ElSafty maintains that his true passion is teaching. He has collaborated numerous times with other departments around UNF, such as the English Department, in order to achieve the best academic atmosphere possible and ensure a well-rounded education that will prepare his student for the workforce.
"[Teaching] is why I left the industry and came back to academia… I mean, that's what I love," he explained. "I integrate my industrial experience into the classroom, so anything I acquire through my work as a bridge engineer, I embed that in my teaching. Anything I acquire through research, I also integrate that through my teaching, and that has helped very much."
In 2015, ElSafty was nationally recognized as "Educator of the Year," through PCI; however, now that he has also earned the Distinguished Professor Award, however, ElSafty has expressed nothing but modesty and admiration for his colleagues.
"I think there are so many other faculty members who deserve it more than I do," ElSafty said. "I got lucky, I would say. But I'm just fortunate to work with this faculty and staff here at UNF… knowing the faculty and staff is the best thing about [being at] UNF."
ElSafty will be formally recognized and awarded at UNF's 47th Annual Fall Convocation in August.
—
For more information or news tips, or if you see an error in this story or have any compliments or concerns, contact [email protected].