The ride that changes lives
Imagine waking up in your quaint little neighborhood to what sounds like a loud car engine, roaring and droning outside of your home. Curious and confused, you walk outside only to find hundreds of motorcycles out front, each motorist with an envelope in hand. The envelopes contain checks to go toward your college funds.
Sounds incredible, right?
This is exactly what the Gold Star Ride Foundation in St. Paul, MN, does for families of fallen US military members.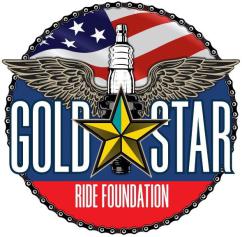 Formed in 2016, the Gold Star Ride Foundation is officially recognized as a non-profit 501(c)(3) organization comprised of only volunteers; all volunteers within this organization have full-time jobs elsewhere. Every year, foundation members embark on a motorcycle trip covering all 49 continental states, visiting Gold Star families and bringing to them the surprise of a lifetime. These scholarships are raised via donations from the public as well as foundation members. According to executive director Tony Price, the families are not restricted on how the scholarships are allocated.
Price first got involved with the organization because of his love for motorcycles, as well as his passion for giving back to those who gave their all. A disabled veteran himself, Price finds joy and fulfillment in the exhilarating rides. Spinnaker Radio conducted an hour-long phone interview with Price, who tells in detail how he accidentally stumbled upon the Gold Star Ride and offers anecdotes on how the foundation has impacted families of all situations and backgrounds.
The interview airs on 95.5 WSKR Memorial Day, May 28, at 7 p.m. and will re-air for "Talkin' Tuesday" (Spinnaker Radio's interview show) May 29 at 7 p.m. The interview will also stream on radio.unfspinnaker.com at these times. To learn more about the Gold Star Ride Foundation and how to get involved, visit here. 
—
For more information or news tips, or if you see an error in this story or have any compliments or concerns, contact [email protected].