Your Student Body President: Sit-down with Jenna DuPilka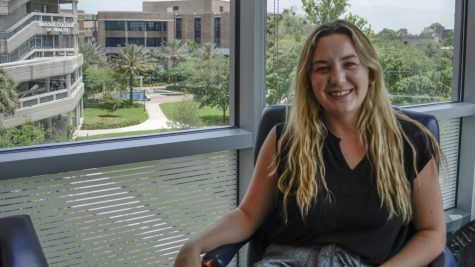 In order to get to know the new UNF Student Body President better, Spinnaker sat down to find out what drove Jenna DuPilka to seek the office, hear about the plans she has for her Presidential term, learn about her journey in navigating new responsibilities and restrictions, and discover the legacy she hopes to leave after she leaves office.
DuPilka told Spinnaker she had moved to Jacksonville from Jupiter, Florida, where she was part of the debate team and traveled to George Mason and Harvard for debate conferences during high school. Afterward, she chose UNF because she fell in love with the campus and knew that small class sizes would mean a better chance at opportunities around the school.
DuPilka hit the ground running and ran for the UNF Senate, joined a volunteer program that mentored at-risk girls and applied for an internship at the Washington Center in Washington D.C. According to her, mentoring these at-risk girls was a pivotal experience that drove her to run for office, though a prior 10-week internship served to motivate her similarly.
"I was an intern for operations at Ayuda, which is a legal aid service for immigration. It was basically for domestic violence against women and helping with the language barrier in the court system, which is something that I was never been accustomed to," DuPilka recalled. "It was great to see that, and it's something that I'm very passionate about and hope to help with in the future. I had the experience in D.C. and I got to see Congress, so I was energized to be here."
On discussing the theme for her presidency, DuPilka emphasized the concept of approachability.
"I really want students to know that it really is students serving students," she said. "I want them to feel like they can come up here. I want students to feel that they can do that. Approachability. It really has been Maria and [my] goal from the beginning."
To achieve this theme, DuPilka has used social media, such as utilizing Facebook Live to send the message to students. She has also listened via the Osprey Voice and outreach programs that started during the campaign.
"This campaign season was so much fun to me because I love talking to people. It's one of my favorite things in the world," she affirmed. "My constituents are very important to me. How students feel is very important to me. That's why I'm happy we have a student advocate. Donuts with DuPilka, Meetings with Maria. It's cute little events, but it's really just us trying to get to students."
She also shared her new slogan, "Fly Hard," which will be used as part of the new branding for Student Government. So, look out for the new slogan on shirts, hats and pins around campus.
On another note, DuPilka says the biggest difficulties in achieving her goals come from her hectic schedule.
"I want to be out there. It's really hard being stuck up here and not being out with students. As President, there are responsibilities that are very important but aren't directly involved with the students but students need someone to do it. So, I've got a great team with the autonomy to help the students."
Time restraints won't stop her, however. DuPilka also reportedly has a few ideas that she wants to open for discussion once the new Student Government budget is approved by the Board of Trustees in July. For instance, the Thomas G. Carpenter Library is a spotlight on her agenda, though considering a "syllabus bank" and working on a seating-and-shade program around campus are some other ideas she would want to see implemented.
When discussing her motivations, her passion is evident:
"Helping people motivates me. Giving back to the community motivates me," she told Spinnaker. "It's what makes me happy and get up in the morning. I'm very empathetic, it sometimes gets the best of me because I really do feel people's pain. [But] I believe that's what a president should be: someone who serves people. They're not serving you, you're serving them."
—
For more information or news tips, or if you see an error in this story or have any compliments or concerns, contact [email protected].