Beat being broke: Summer side hustles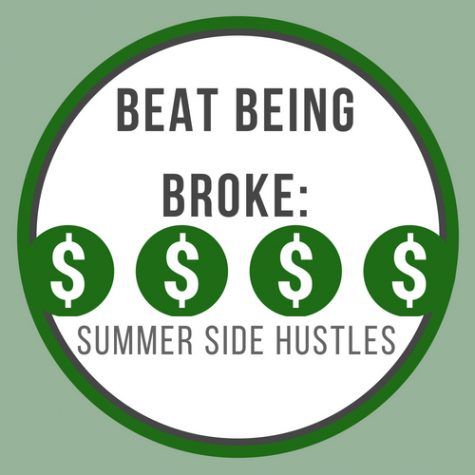 As great as it is to dream about having an adventurous summer that's worthy of those cheesy, slow-motion shots of you running down the beach on some distant romcom coast, it's time to be honest: those kinds of summers take more money than you probably have in your empty-bellied piggy bank.
Maybe you don't have a job, or maybe you do but you could still benefit from an additional influx of cash. Either way, Spinnaker is here to help you beat the broke-student-blues this summer with five easy side hustles that will allow you to make more money from the comfort of your own home.
1) Sell old clothes online
We all having clothing items that we find in the back of our closet, wonder why we own it if we never wear it and then shove back in because we swear  we might wear that item again… someday. And honestly? No. No, we won't. So instead, boost your bank account by selling those items. According to the Association of Resale Professionals, approximately 16 to 18 percent of Americans will shop for clothes via thrifting at some point during the year, and it doesn't have to be at a physical store. Some websites, such as Poshmark or thredUp allow you to post your clothes, shoes and other accessories online in order to sell to other virtual-thrifters.
2) Sell old books and textbooks online
The campus bookstore might practically rob you every semester, but that doesn't mean you can't make some of your money back once classes end. Declutter your home and your life by selling your old books or gently used textbooks on websites like Bookscouter or Bookfinder; these websites even allow you to set up your own professional book-selling account to get the job done. If this doesn't sound like your cup of tea, going the traditional route on Amazon or eBay is just as fast and simple, and won't require the emotional damage involved in returning to the campus bookstore.
3) Be an online language tutor
If you've ever taken a foreign language and wondered what in the world you would do with that experience once class was over, you can rest easy knowing that you have a skill set worthy of money-making. Using websites like Wyzant, you can become a conversation partner or language tutor online and get paid for it. Plus, according to a report from TESOL, there were at least 1.5 billion English learners worldwide in 2014 and the number only keeps growing. So, even if you don't know a foreign language, you can still participate in English.
4) Review websites, apps and programs
Reviewing and troubleshooting online platforms is easy and can be done on various devices, whether it be your laptop or your phone. Companies like Userfeel or Userlytics offer $10 per test and each one reportedly takes only 10 to 20 minutes. The process usually only involves visiting a website or app, completing a set of tasks and recording your thoughts and experiences. Simple.
5) Manage social media
Sure, Millenials are constantly being made fun of for a supposed constant use of social media, but why not capitalize on that? According to the Data Marketing Association, 45 percent of marketers are looking to increase brand awareness via social media, and social media managers made an average salary of $77,000 in 2017. That means you can boost both your resume and your bank account by reaching out to local businesses who are under-utilizing social media and offering to get the job done for them. You may have to go into their business every once in awhile, but oftentimes this is a job that can be managed remotely from your bed. Talk about living the good life.
—
For more information or news tips, or if you see an error in this story or have any compliments or concerns, contact editor[email protected]