LGBT Resource center offers replacement "Safe Space" stickers following recent unauthorized removals
[embedyt] https://www.youtube.com/watch?v=zIDlK9KcYVc[/embedyt]

Designated "Safe Spaces" on campus exist for students and faculty as locations of understanding and acceptance. However, the LGBT Resource Center has recently received notice of Safe Space stickers around campus being removed or torn, and this reportedly isn't the first time such incidents have occurred.

LGBT Resource Center Director Kaitlin Legg defines a Safe Space as a location or person who welcomes individuals of all sexual orientations and gender identities. She believes that aggression toward Safe Spaces simply stems from misunderstanding.

"There's a lot of misconceptions about Safe Space," Legg said. "What it really means is that everyone is welcome to share their opinions and to respect each other and that people won't be turned away or discriminated against because of their identity."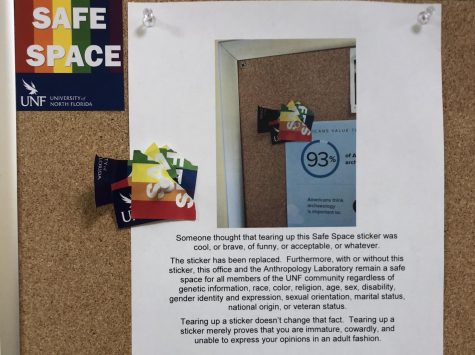 According to Legg, those who display Safe Space stickers wish to identify themselves as a resource to students and faculty. Many academic departments have had their staff undergo training so that they can become aware of strategies for promoting acceptance at UNF.
Safe Spaces on campus are able to receive replacement stickers from the LGBT Resource Center if theirs have been removed or destroyed.
"If a student, faculty or staff member sees that their sticker was torn down, missing, or they just want another one, they can either send us an email or just stop by to grab one," Legg affirmed. "For people who want a sticker but never had one before, they just have to go through safe space training."
More information regarding Safe Space training can be found on the LGBT Resource Center website. Legg says there will be many opportunities for training during the upcoming fall semester. Faculty and staff can participate during the summer.
The LGBT Resource Center is located in room 1111 of the Student Union East Building. They can be reached by phone at (904) 620-4720 or by email at [email protected]
—
For more information or news tips, or if you see an error in this story or have any compliments or concerns, contact [email protected].