In the name of action and memory: UNF holds a memorial event in honor of the two-year anniversary of Pulse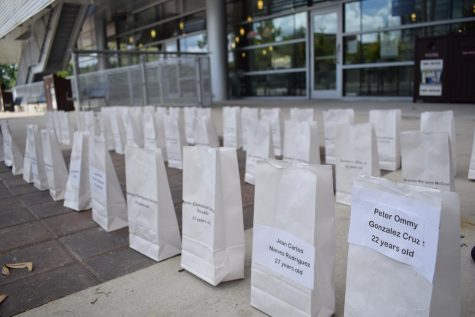 A paper bag bearing a name seems a dismal representation for a life lost, yet a total of 49 of them sat next to a stage bearing a single rainbow flag in the Student Union, the flag hanging solemnly in the stagnant summer air. A mere two years ago on June 12, 2016, what was meant to be a night of jubilation, fun and dancing unexpectedly became the second deadliest mass shooting in American history, taking with it 49 too-young members of the LGBT community.
Today, on the two-year anniversary of the Orlando Pulse Shooting, cities across the state took the time at noon to read the names of those who were lost to the Pulse shooting, and UNF stood in solidarity. Teaming up with Equality Florida, Florida's largest LGBT civil rights group, the LGBT Resource Center hosted an official memorial service in the heart of campus, inviting all UNF students, faculty and members of the public community.
"The emotions we are feeling now are as unique and individual as we are. Because of this, we wanted to provide space: space to be together, or space to be alone… just, space to be," Michelle Adams Manning from Equality Florida said to the crowd. "Please take a moment to think of the 49 lives that were taken and how you will, and have, honor them with action… whatever you do, honor them with action."
Attendees sat in front of the stage as Ruth Lopez, assistant vice president for UNF Student and International Affairs, and Manuel Morales, a Jacksonville community member, read the names and ages of those who fell victim to the tragedy, visibly restraining their tears as they took turns speaking.
Following a moment of silence, Spinnaker was able to speak with Morales, who had also read the names at the same campus event last year.
"I feel honored [to be] here, but also sad that we even have to have this at all," Morales explained, his voice breaking with emotion. "But I'm glad we continue to remember the memories of these fellow brothers and sisters."
In attendance were community members and UNF students and faculty, including even representatives from Student Government.
"Student Government is honored to attend this event remembering the 49 innocent lives lost two years ago today," Communications Coordinator Sophia Ward said. "We encourage students to use resources on campus and talk with our student advocate if they ever need someone to talk to. On this anniversary, we must remember to love and respect everyone, regardless of your background."
Poster boards were also placed on tables in the Student Union, each displaying a question which attendees could reflect on and respond to on index cards.
"After Pulse, I think ___, but now I think ___" prompted one board. The other directly addressed the event, asking "What has changed? What has NOT changed?" and "What can you do to continue to honor them with action?"
The boards will be placed in the LGBT Resource Center following the event so that UNF students may continue to reflect and respond if desired.
More than anything, Michelle Adams Manning emphasized the need to not only act but to act in solidarity in order to incite change and prevent future violence.
"If, as a community, we have learned anything in the last two years, it is.. [that] we must act and do something," she said. "And that we have to be here together."
—
For more information or news tips, or if you see an error in this story or have any compliments or concerns, contact [email protected]