OPINION: The World Cup may not be worth the cost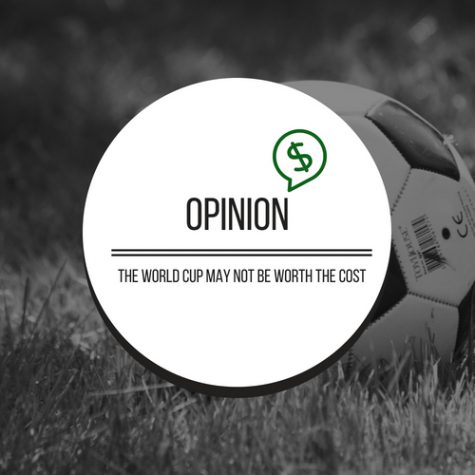 The United States has its big sports: basketball, American football and so on. For the rest of the world, soccer (or commonly known as football) is an unstoppable and uncomparable force no other sport in the world can reckon with. It is simultaneously unifying and divisive and it brings out the best of cultural appreciation and solidarity. It can, however, also be dangerous because people have made ridiculous bets and hooliganism can be rapid.  Despite all of these factors, we must say with an absolute certainty that soccer is undeniably a profit generator.
This is why the World Cup is such a serious thing. But with everything that entails its organization, is it worth it?
The first Fédération Internationale de Football Association World Cup was hosted in Montevideo, Uruguay on July 18, 1930. Since then, it has been cemented as a world event that happens every four years.  This year's World Cup is taking place in Russia; it started on June 14 and will go on till July 16. There are different reactions to this decision because of the obvious notions surrounding the Russian Federation. Disregarding these perceptions, the major concern is the price tag. The initial cost of $600 million has dramatically risen to approximately $12 billion. Though there's no comparison to either Sochi's 51 billion or Beijing's 40 billion, it is still a hefty price. Then, do countries still want to host the World Cup? The answer is yes.
This soccer event has the potential to bring much positive attention to the hosting country, and everyone can agree that Russia needed to look more attractive and friendly as of late. The World Cup does create construction jobs, brings investments for stakeholders, is very profitable for entertainers and players,  helps with (short-term) tourism and more. It's about soccer, which already has an incredibly positive impact on societies. With so many benefits, why would anyone have any issue with the World Cup?
This question will have varied answers, depending on who you ask. Many countries already have infrastructures to host the World Cup; however, most countries do not. Despite many positive things that the World Cup brings, the risks are also noteworthy.
This event is monumental, therefore it also requires work of the same effort and the same cost. This last observation is really the biggest worry of some host countries: how can we afford it?
Let's take the case of Brazil. The total of the 2014 World Cup was $15 billion with about $3 to $4 billion dollars spent on stadium construction. Not only were much of the stadiums left unused, but they were also left in ruins and robbed of many materials. For instance, the most expensive stadium – Estadio Nacional in Brasilia – was reported to be used as a bus parking lot. It truly did not help that several politicians were caught into a swirl of corruption with FIFA, and they were even caught based on found proof of bribery and mismanagement of funds. The civilians realized too late those promises of investments only went towards companies and not the general population. There have been other issues aggravated by the World Cup, such as sex tourism and human trafficking, gang violence, police strikes, unfinished stadiums and more.  Not only does the country still owe money from the competition, but it has damaged their economy for years to come.
With all these problems, how can FIFA still want to do the World Cup? Well, as mentioned before, soccer is a money-generator for many investors and stakeholders. It is estimated that FIFA generated a whopping $4.8 billion, which is a nice return from the $2.2 billion it spent on the indirect expenses, largely to teams and to confederations.
Whenever a World Cup happens, FIFA does not foot the entire or partial bill for infrastructures. In reality, the host country does. Right now, Russia's spendings account for approximately 60 percent of its federal budget; hopefully, the government understood the risks and calculated how to make this amount back into their treasury prior to committing to the World Cup.
Overall, if the decision to host is not well-calculated and orchestrated for long-term use, the World Cup may have long-lasting economic and social impacts. It may even be destabilizing for the host country.
Is it worth it? Yes, only if you are ready to not only pay for it but also to sustain the aftermath. 
—
For more information or news tips, or if you see an error in this story or have any compliments or concerns, contact [email protected]