UNF professor collaborates to create a better world
UPDATE:** 7/31/18 9:06 a.m.: The original version of this article did not credit Coral Lambert as the artist that Jenny Hager collaborated with on the iron furnace volcano project. Her name has since been added.
---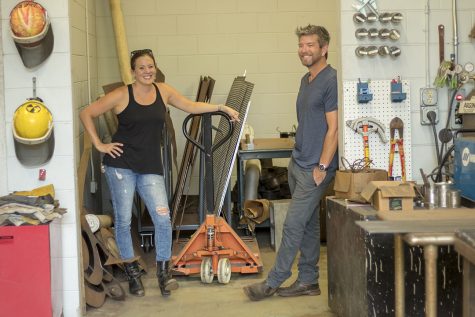 In the back of the scorching warehouse that is the UNF Sculpture Department, Professor Jenny Hager motions toward a six-foot-tall rooster.
"I've built five of the 12 characters of the Chinese zodiac so far. I'm going to build all 12 and make them as parade animals," she explained. "When they're all done, I'm going to invite other artists and musicians to collaborate in some sort of parade in Jacksonville and maybe take it somewhere else."
Hager uses a wide variety of media to create her art. This includes everything, from video installations to a volcano furnace art collaboration with Coral Lambert that literally erupted molten iron. Just as diverse as her body of work is the multitude of creatives that she collaborates with.
"I really like working with other people and bringing everyone's gift to the process," Hager said. "Everyone brings their own unique experience and their own kind of energy to the project."
This fall, Hager plans to work with a Jacksonville nonprofit, Rethreaded, on an installation for the Lufrano Intercultural Gallery in the John A. Delaney Student Union. Rethreaded works with women who are recovering from human trafficking, prostitution, addiction and violence. The organization trains them to create art and clothing from upcycled t-shirts so that they can be self-sufficient, even with the stain of a criminal record.
"I'm going to make a giant birdcage that has the door open and all the birds have flown out," Hager told Spinnaker. "They've left the cage to explore their own new world."
Hager is also working on a project with her husband, Lance Vickery, who happens to be an assistant professor of sculpture at UNF.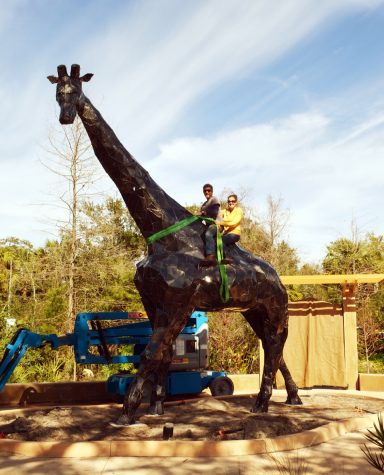 "Lance and I are doing a soup can project for Feeding Northeast Florida where are we going to bring awareness to hunger in Jacksonville," Hager said. "We're making a giant soup can and we're collaborating with graphic design professor Blake Coglianese. He's going to collaborate with us and create the label. The label for the soup can will have like all of the statistics on it to bring awareness to the hunger issue and hopefully raise money for the organization."
Hager isn't the only one that's busy with collaborations. Vickery recently worked with local business owner Bryan Croft to install a sculpture bike rack in Neptune Beach.
"His idea was to use this as a seed element; here's to show what it can actually do, if we do this on every street in Neptune beach," Vickery said. "So we drew up a couple of designs, but his daughter had actually drawn up a design and he goes, 'how about this?' So he gave us the actual design, we worked with that design, basically took it and tried to make it into a steel sculpture. Then got that done and approved."
The vivid green and blue bike rack sits at the end of South Street.
The artistic couple seems to have hit a nice stride together as movers and shakers of the local visual arts scene. As for their artistic relationship?
"He's my partner in life, but he's also my partner in sculpture," Hager affirmed. "We make a really good team because he's really good at a lot of things that I'm not good at, and I'm good at things that maybe he's not good at, so we play off of each other well."
—
For more information or news tips, or if you see an error in this story or have any compliments or concerns, contact [email protected].