Advocates gather to voice concerns as JSO unveils new LGBT liaison team
Jacksonville Sheriff Mike Williams and community partners introduced the Jacksonville Sheriff Office's new LGBT liaison team on Thursday, Aug. 3. at the FSCJ Downtown Campus.
JSO created the liaison team in response to the murders of three Jacksonville transgender women since the beginning of this year. The investigations are still open and active, but Sheriff Williams said there was no evidence linking the murders.
UNF graduate and liaison team member Sargeant Harvey Baker IV said that the primary purpose of the nine-officer team is to act as a means of communication to the LGBTQ community and to "reassure people that investigations are going right, when they are."
But some of the LGBTQ advocates and allies present were not satisfied by the creation of the team. Many of them expressed outrage over the Sheriff's Office's misgendering of murder victims and general mistreatment of transgender people by the police.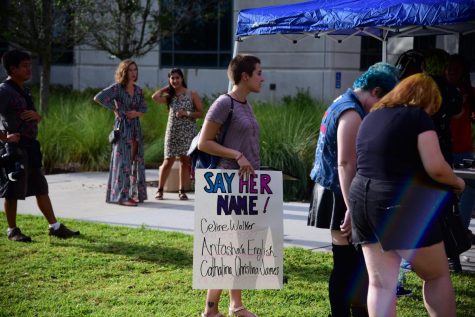 "Sheriff Mike Williams, I want to ask you and your liaison team, why haven't you guys apologized to the transgender community for misgendering us in media?" asked Founder Paige Mahogany Parks of the Transgender Awareness Project.
One commenter, who did not identify herself, led a group of over 20 attendees, including Parks, out of the auditorium at the event.
"Passively sitting here and being a part of this is giving consent to being a part of this publicity stunt by JSO," she said. "I'm not going to do it. I'm tired of it and I'm leaving."
While some speakers appreciated the chance to weigh in on the creation of the liaison team, the general attitude was tense. Most of the forum participants used their three allotted minutes to admonish the JSO and recount their own negative experiences with police.
"There's room for us to improve in many areas," Sheriff Williams said. "But we're going to continue that dialogue, we're going to continue that conversation through the liaison team and other venues as well."
—
For more information or news tips, or if you see an error in this story or have any compliments or concerns, contact [email protected].