Recent murders of Jacksonville transgender women sparks fear and anger in the community
Amidst a month designated for celebrating diverse expressions of life, certain members of the LGBT community instead found themselves filled with fear for their safety by the end of June.
While we are only halfway through the year of 2018, there have already been three transgender women shot and killed in Jacksonville. A fourth has survived, but her experience only further exacerbated community members' questions on whether or not the local transgender populace is being specifically targeted with acts of violence.
Nationwide, there have been approximately 14 deaths of transgender people as a result of fatal violence in 2018, according to the Human Right Campaign. In this regard, the recent spike of transgender deaths in Jacksonville alone is startling. Additionally, two of the murders were in relatively close proximity to each other and the UNF campus.
First, Celine Walker, 36, was shot and killed at the Extended Stay America near the St. Johns Town Center on Sunday, Feb. 4. On June 1, Antasha English, 38, was shot and killed on Ella St. on Friday, June 1. Most recently, Cathalina James, 24, was found shot and killed at a Quality Inn and Suites off of Dix Ellis Trail on Sunday, June 24.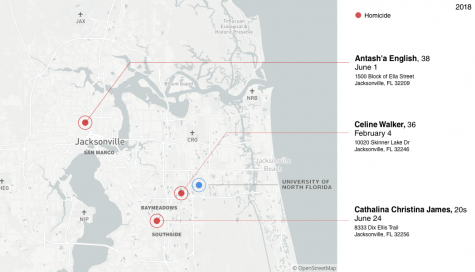 The LGBT community and supporters responded by questioning their safety and calling for justice. Two rallies were held towards the end of June, one taking place on Tuesday, June 26, and another on Wednesday, June 27. In both instances, rally-attendees congregated in front of prominent locations in the city to demand change: City Hall and the Duval County Courthouse.
Director Kaitlin Legg of the UNF LGBT Resource Center was in attendance at the Trans Lives Matter rally in front of the courthouse, where she described there being approximately 150 attendees.
"There was an overwhelming sense of fear and also frustration," Legg recalled. "Fear of going outside and of being targeted and not feeling supported by the larger 'LGB' community, as well as just Jacksonville."
The nuances of the incidents have proven fragile in nature. Not only did all three of the murdered women identify as transgender, but all three of them were also African American. For these reasons, there has been speculation on whether or not these murders may be linked, though nothing is yet confirmed. On top of this, activists have been calling out the Jacksonville Sheriff's Office for their alleged insufficient responses and improper naming of the transgender women.
The UNF Students for a Democratic Society also attended the rallies on Tuesday and Wednesday. They affirmed their stance with Spinnaker.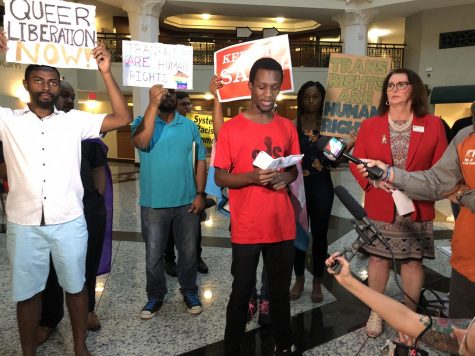 "We always have and always will stand with the LGBTQ community and believe that these violent crimes against transgender people are unacceptable and under-investigated," SDS leaders said. "The response from Jacksonville Sheriff's Office has been inadequate and disrespectful at best, which is why we support the calls for police accountability and community control of the police."
Dan Merkan, Director of the JASMYN non-profit LGBTQ youth service, also shared with Spinnaker what the reactions were among the younger members of the community. Emotions spanned from "angry" to "forgotten" among the group of 15 to 25-year-olds, and others were simply at a loss for words. According to Merkan, several also feared they could be next.
"I'm frustrated. I think it's time for the JSO to take action on some of the requests made by the community. First and foremost, they need to change their policy around how they name transgender victims and they need to name them by the names the victims go by or were known by in the community," Merkan explained. "Two, we really think it's time for the JSO to follow through on the recommendation that was made in their own task-force report, which was to create an LGBTQ liaison. It's really important that the JSO understand that the marginalized communities have special needs."
Kaitlin Legg also told Spinnaker she believes the failure to use the victims' chosen names may impede on proper investigation by not taking the possibility of hate crimes into account.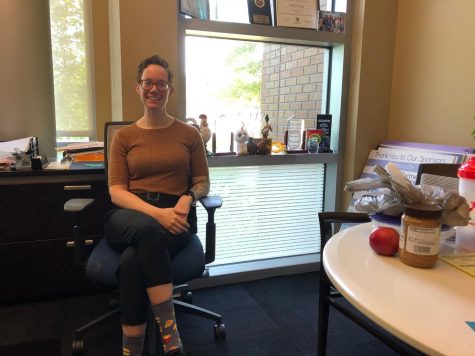 According to the JSO, however, the reason for reporting the murders under the victims' birth names is because they need to report whatever names they were legally identified as. Sheriff's office spokesman Christian Hancock told local WJCT that JSO intends to foster good relationships with all members of the community. He also denied that the JSO's use of identifying victims by their legal names indicated any intentional disrespect.
"As an agency, Jacksonville Sheriff's Office determines the identification and sex of a deceased victim by using the victim's government-issued ID or that which is determined by the medical examiner," Hancock said.
Regardless, at the rallies, people have expressed a general concern for safety within the community. For this reason, Legg recommends that, while one cannot necessarily prevent a crime, students should be aware of their surroundings, always walk with a friend and never meet up with strangers. Additionally, getting involved may help transgender students to feel more empowered.
"One of the most important things for transgender students to do is to make sure they have a support network and that they have people they can talk to about this. Whenever there is a trauma in our community it can cause a lot of fear and anxiety," Legg told Spinnaker. "If students are feeling helpless or like they may want to get involved, getting connected with some local organizations like the Transgender Action Committee is a good first step to tap into that network of advocates."
If you or somebody you know is experiencing distress in light of these recent tragedies, don't hesitate to reach out to either the UNF LGBT Resource Center at (904) 620-4720 or the Counseling Center (904) 620-2528.
No arrests have been reported in any of the cases. Anyone with information can contact JSO at (904) 630-0500 or First Coast Crime Stoppers at (866)-845-8477 (TIPS).
—
For more information or news tips, or if you see an error in this story or have any compliments or concerns, contact [email protected].