Dissecting the decisions behind and reactions to removing Papa John's from campus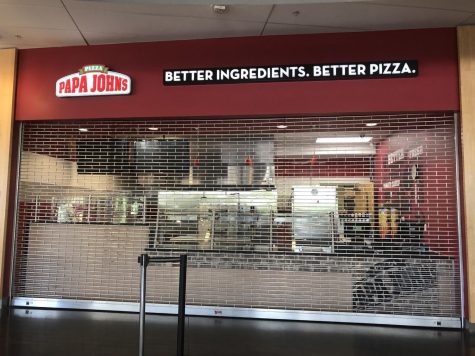 On July 11, 2018, Forbes broke the news that Papa John's CEO John Schnatter uttered the N-word during a conference call in May 2018. On the day the article was released, Schnatter himself announced his resignation as Chairman of Papa John's.
Nearly a month after the news broke, on Aug. 1, 2018, UNF President David Szymanski sent out an Osprey Update announcing the removal of Papa John's from campus. Spinnaker has since received several emails discussing the decision and the reaction for the removal of Papa Johns to and from Szymanski.
On July 27, 2018, two weeks after the initial story from Forbes was released, Szymanski reportedly sent an email to Vice President and General Counsel Karen Stone requesting a meeting to discuss the "consideration of Papa John's." President Szymanski also referenced the University of North Kentucky, who cut their ties with Papa John's just two days after the Forbes story broke, and questioned whether or not UNF should follow their lead.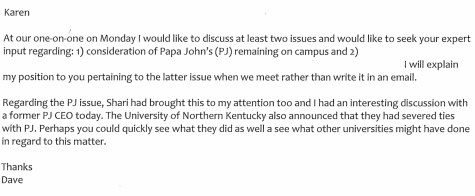 After Szymanski sent out the Osprey Update, he received mostly positive feedback praising his decision for removing Papa John's. These individuals included Multicultural Affairs Director Oupa Seane, Archbishop Desmond Tutu, Vice President and Chief of Staff Tom Serwatka, who is now leaving UNF, Philosophy and Religion Professor David Fenner and Vice Chair of Board of Trustees Sharon Wamble-King.



Interim Provost and Vice President of Academic Affairs Pamela Chally even went on to say his decision caught the attention of local television.

Amidst all of the positive feedback, Szymanski also received negative reaction that believed the removal of Papa John's was for the sake of political correctness. A UNF parent slammed Szymanski's decision, questioning him about the decision and the money behind it all.

One student even argued how certain words or phrases will always offend people, and that the move to get rid of Papa John's is simply an example of feeding into that mentality and not truly preparing students for the real world.

Spinnaker reached out to Szymanski for an interview concerning the removal of Papa John's, but he had no comment. 
—
For more information or news tips, or if you see an error in this story or have any compliments or concerns, contact [email protected].