Marketing strategy mistaken for sex trafficking scheme
A marketing campaign from the app IRL gained negative exposure when a Twitter user claimed that it was linked to sex trafficking rings.
IRL is a real social media app that is reportedly not involved in sex trafficking but does have a reputation for an aggressive marketing strategy.
Students may recognize the unsolicited text, "A friend complimented you. See more on IRL" along with a link for both IOS and Android devices. The link brought phone users to the app to download.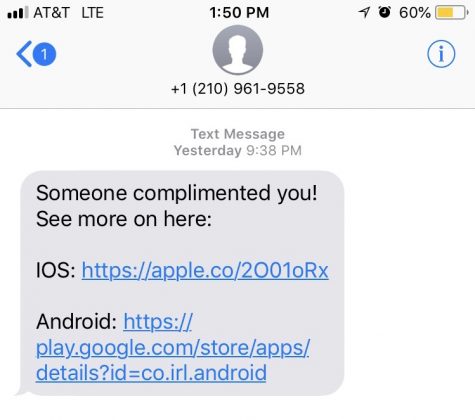 The now deleted viral tweet read: "LADIES, if you have received a text recently saying 'a friend has complimented you in IRL' With a link attached below it, DO NOT open the link! It is linked to sex trafficking. All your information, (including location) can be taken simply by clicking on the link. SO DON'T DO IT!"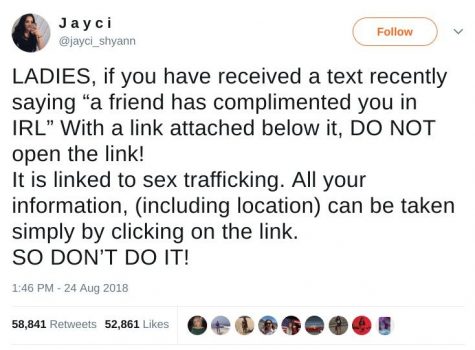 What is IRL?
According to IRL's website, IRL stands for "in real life," and it is a way for people to receive invites to meet and hang out with people "in real life."
The website also states that IRL aims to solve the technology addiction by bringing people together. In this app, users can send their friends nominations or "noms" anonymously to complement their friends. IRL wrote on their website that the nominations were intended to make users feel more confident when sending out invitations.
So why am I getting these messages?
According to IRL's FAQ page, you can receive a text from IRL because you are in someone's contact list that joined this social media app.
Text message marketing is nothing new. It is a form of marketing to gain attention and downloads in a very efficient manner.
This form of auto-spamming marketing is nothing new to the owners of IRL. In April of 2017, the owners of the app used this marketing scheme for an app called Gather.
Am I safe?
IRL has no connections or reports of any sex trafficking activity. But, according to IRL's privacy policy., IRL has access to your name, gender, your interests, GPS location, email address, contacts and phone number.
Officials at the UNFPD suggest if students are concerned for their safety in regards to social media or general online safety to visit UNFPD website for online safety tips.
There have been no reported claims from UNF students about this situation.
—
For more information or news tips, or if you see an error in this story or have any compliments or concerns, contact [email protected].