UNF graduate returns for a second viral hurricane showdown
He first took the internet by storm two years ago when he showed up to shirtlessly headbang in the aggressive winds of Hurricane Matthew. And this year, UNF graduate and "Florida Man" Lane Pittman returned to take on Hurricane Florence the only way he knew how: armed with nothing but an American flag and music by Slayer.
"[Fighting Hurricane Matthew] was kind of like an impromptu thing," Pittman explained of the original idea. "Somebody gave me the idea to just go out there and just be free and have a great time, and I said, 'that sounds pretty sweet, but I've got to have a good song with it.' And 'Raining Blood' by Slayer is just the ultimate song for fighting hurricanes."
[embedyt] https://www.youtube.com/watch?v=Y8eL_DB-xBo[/embedyt]
This time around, however, Pittman wouldn't be standing off against hurricane-force winds in his home territory of Jacksonville, Florida. Instead, he would need to travel northward along the coast to greet Hurricane Florence in his own way. For this reason, Pittman started a "Send Lane to fight Florence" GoFundMe page to send him to Myrtle Beach, South Carolina.
Originally having asked for only $150 dollars in travel expenses, Pittman's raging enthusiasm was infectious enough that he actually managed to raise excess funds and amass a total of over $1,000 in travel money.
On the question of his surplus funds, Pittman said that he is going to "definitely fix up [his] old beaten up Subaru so [he] can go fight more hurricanes if they come along the coastline." He also explained that some of the funds will go towards paying his videographer, as well as be pooled into his savings so that he won't have to start a GoFundMe for whenever the next hurricane barrels toward the U.S.
"My GoFundMe just took off, man," Pittman said. "It's crazy what people want to see."
And people certainly did want to see. In fact, after completing his "fight" against Hurricane Florence on Sept. 14, Pittman wasted no time taking to social media, captioning his video, "YOU ARE WEAK AND SMALL FLORENCE!!!!! FLORIDA MAN IS HERE!!!!!"
Raining Blood by Slayer, of course, blasted energetically in the background as his American flag flapped wildly in Florence's 85 mph winds.
[embedyt] https://www.youtube.com/watch?v=nDwpM5JkGts[/embedyt]
"You've got to put on for your country, dude. There's nothing more patriotic and free than just representing your colors and going out there and saying, 'I don't give a rip what you think about this hurricane or anything,'" Pittman told Spinnaker. "We're free, we're here, we're together. This is America. This is awesome."
Following what is actually his third hurricane showdown (as he also "fought" Hurricane Irma, albeit it did not gain similar traction), Pittman has again gone viral, attracting national attention from the likes of even Fox News and the Huffington Post. All in all, from memes to clothing apparel to the barrage "Florida Man" headlines, it's pretty hard to miss the face of Lane Pittman this hurricane season.
"Being 'Florida Man' is sick," Pittman said, laughing. "It's a life goal right there. It's a good achievement. I feel like 'Florida Man' has so many negative connotations. It's nice to be 'Florida Man' and have kind of a resounding, overall positive thing. It's awesome."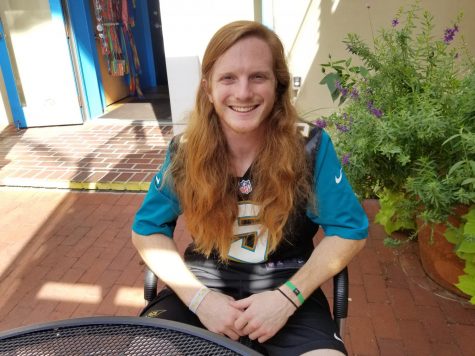 However, he cautions that standing off against hurricanes, while fun, should not be attempted by everyone.
"I recommend [fighting hurricanes] with caution. I don't think it's for everybody. I don't think just anybody should go out and stand in the middle of the hurricane," he explained. "I took an educated guess on where I could be the safest and still turn up in a hurricane, so that's what I went with."
Of course, following his latest excursion, one cannot help but ask the one lingering question: Will he do it again?
"Absolutely. I feel like you can't have this much traction and support and not want to go and put on for the community. People find so much joy and so much relief out of a tense situation, and if I can show that kind of joy and love just for people [to be relieved], why not just make something pretty cool and awesome?"
—
For more information or news tips, or if you see an error in this story or have any compliments or concerns, contact [email protected].