UNF alumna spotlight profile: Emily Strack
As a young girl, Emily Strack was tall for her age. She was living in Tokyo with her family, and by the age of 12, she was playing basketball. One day, her basketball coach approached her and spoke to her about the possibility of playing volleyball. She instantly fell in love with volleyball and it has been her passion and livelihood ever since.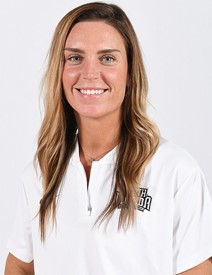 Strack lived in downtown Tokyo from 2000 until 2008. While there, she learned volleyball is very structured and popular among female athletes. She attended an international school where a classmate was the princess of Japan.
Strack's father was both her basketball coach and role model. He inherited his tenacity from his mother and passed it on to Strack and her brother.
"He taught us every day to attack the day and he taught me work ethic and how to never question a coach," Strack said.
Famous volleyball player Kerri Walsh has been an inspiration and idol for Strack throughout the years. Walsh played indoor and beach volleyball in her career, and that's what Strack decided she wanted to accomplish when she was about 15 years old.
After honing her skills in Japan, she returned to the United States and enrolled in junior college. Soon after, she transferred to the University of North Florida because she learned it was one of the first schools to offer both sports.
"A little-known fact about beach volleyball is that it is the fastest growing sport in the NCAA," Strack said.
According to Strack, when she played at the Division 1 level, there were roughly 35 teams. Today, there are about 150 teams and that was just five years ago. This is a testament to the growing popularity of volleyball.
While at UNF, Strack was a setter for two years when she played indoor volleyball. She played beach volleyball for three years, but she didn't know beforehand that she would become the first beach volleyball signee. When she initially signed, ASUN had not formalized beach volleyball in their conference.
"We won a lot and went to the national championships," Strack told Spinnaker. "I got to go twice, which was such an amazing experience."
Her most memorable player experience is from 2012. She and her partner qualified for the AVCA National Championship. They competed against volleyball powerhouses Hawaii, UCLA and USC. They beat Hawaii and UCLA and finished ninth overall in the tournament.
After graduating UNF, Strack didn't anticipate finding a job immediately. She and a former volleyball teammate formed an alliance and coached area youth. Then, from 2014 until 2017, she coached volleyball at Fletcher High School where she led them to the state championship each of the four years she coached there.
"My old assistant is now the head coach at Fletcher," Strack said. "I think I've helped to create a winning championship program. I can walk away and say I did my job."
Strack is currently UNF's Director of Volleyball Operations, as well as the beach volleyball assistant coach. When asked about her transition to coach, she stated that it is never work when you are doing what you love.
At UNF, she wants to keep growing and building the volleyball program.
"We have a rich history here, and also, we have work to do to make it back to the national championship," Strack said.
Strack has been coaching consistently since graduating from UNF. As far as future plans, next summer she and her fiance, a former UNF baseball player, plan to marry.
She would also like to see the construction of an on-campus volleyball facility at UNF. The program has been successful without the benefit of a multi-million dollar facility but, being able to host tournaments would be beneficial to the team, the school and the UNF community.
—
For more information or news tips, or if you see an error in this story or have any compliments or concerns, contact [email protected].