UNF alumni spotlight: Ian Gibson
One of Ian Gibson's greatest memories of playing basketball at the University of North Florida is when he traveled to compete against teams he grew up watching on television. He recalls playing in notable venues such as the O'Dome at the the University of Florida.
Gibson's passion for basketball began in the early 1990s at about the age of six. He watched televised games of the NBA's Chicago Bulls and Los Angeles Lakers as they competed for the NBA title. Watching those games taught him the importance of hard work.
"Give it your all. Basketball can take you around the world and lets you see a lot of people, but you have to put in the time and effort," Gibson said.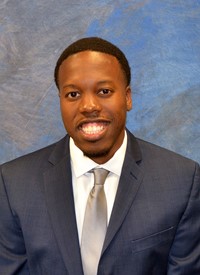 Gibson was a phenomenal basketball player in high school, helping Monsignor Pace win the 2003 3A state title.
His athletic prowess continued when he played at UNF but his reign was short-lived. He incurred  two season-ending injuries that forced him to spectate the games from the sidelines. It was also during this period that he discovered his passion to coach.
"Just from being hurt, I was able to see the games from the outside with the coaches," Gibson said. "I knew I wasn't going to be a professional or anything, so I wanted to get into coaching."
Gibson began his coaching career as an assistant varsity coach at his former high school. Then, he worked as an assistant strength coach at the University of South Carolina. From there, he moved on to become a graduate assistant under the guidance of Shaka Smart during Virginia Commonwealth University's 2011 NCAA tournament Final Four run.
Afterward, Gibson returned to UNF, where he served as the Director of Basketball Operations for the men's basketball team. He then accepted a position as an assistant coach at Daytona State College but he didn't stay long. Gibson returned once again to his alma mater, in the same role as before.
Gibson's mother and father have been great role models throughout his playing and coaching career. He said they taught him the importance of loyalty, compassion and trustworthiness. These positive traits have been useful for him on and off the basketball court. He is proud to share the story of how he met his future wife at UNF.
"I met my future wife here. She was a basketball player and she played her freshman year here. We met in study hall," Gibson said. "Just being able to meet her was one of the greatest things that ever happened to me at UNF."
Gibson lavishes praise on the coaches who have helped to shape his playing and coaching style. He is proud of his time playing in high school and coaching at USC and VCU. However, returning to UNF is something that gives him the most pride.
—
For more information or news tips, or if you see an error in this story or have any compliments or concerns, contact [email protected].