Blac Rabbit channel the Beatles on self-titled debut EP
Blac Rabbit is a Queens-based psychedelic band, coming at us with their self-titled debut EP. It's practically against the rules to judge an album by its cover, but in this case, I did just that. With the amount of music thrown at me, that's what has to be done sometimes. I usually don't recommend it, there are plenty of great albums with terrible covers… but this time, it paid dividends.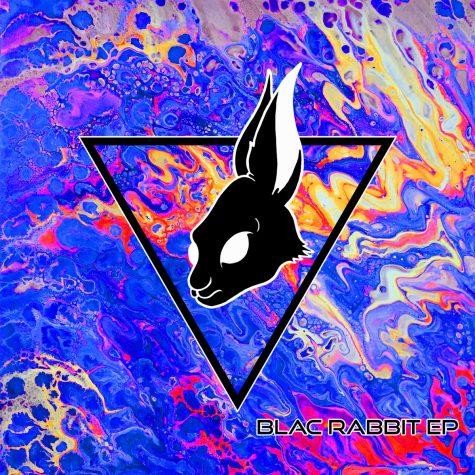 The vibrant swirls of bright indigo, orange and red behind the outline of a black rabbit character were enough to instantly draw me in. Before the music even started, I was hooked on the aesthetic the band had drawn up through this one simple image.
The album kicks off with the reverb-saturated, repetitive sound of "All Good." Repetitive is not a bad thing, as this is probably one of—if not my favorite—track off of the EP. The chugging guitar riff throughout the song is an earworm, as are the delightful Beatles-inspired melodies found on this track.
Blac Rabbit proudly wears their influences on their sleeves. They very publicly take inspiration from the Beatles in their songwriting, often going as far as to cover them in their live performances. It's also not hard to see inspiration from other psychedelic artists. Tame Impala and The War on Drugs vibes are evident on this project.
The band, in their pursuit to make some catchy psychedelic sounds, have in turn mastered mixing. One of the things that caught my ear was the quality of the sound in general. Everything is right where it needs to be. In the case of "The Way the Wind Wisps," for example, every instrument freely breathes in the mix, with a very cymbal-heavy drum beat occupying the high end of the track, guitars in the mids, and basses in the lows.
Overall, I am very pleased with this project and can't wait to see what becomes of this band. My only concern going forward with Blac Rabbit is the question of identity. While this is a beyond solid debut EP, Blac Rabbit seems to think of themselves as tied around their influences' little finger. Will Blac Rabbit become Blac Rabbit, or will Blac Rabbit live as nothing more than a Beatles/Tame Impala impression?
Rating: 4/5 Sails


—
For more information or news tips, or if you see an error in this story or have any compliments or concerns, contact [email protected]