Party in the Plaza premiering this basketball season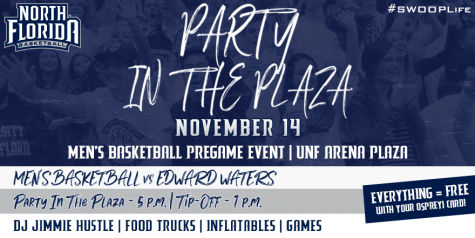 With the recent alcohol-ban in parking lots and tailgate parties, UNF Athletics and UNF Campus Life are partnering to organize alcohol-free pre-game basketball events called Party in the Plaza.
The events will have free food from food trucks/sponsors, cornhole, a DJ, and more.
Party in the Plaza will be occurring at both the Men's Basketball and the Women's Basketball home games.
Spinnaker talked with Kaitlin Parsons, Assistant AD for Marketing of UNF Athletics, about the upcoming event.
"It's an event to try and get our students to come be a part of the atmosphere, build school spirit and get excited about coming into basketball games," Parsons said.
Students who are still hesitant about coming to the event because of the alcohol-ban can still enjoy the activities that Party in the Plaza will be providing.
"We hope that some of the activities that we're putting together with having our DJ there, having free food, especially with some of the most popular food trucks on campus and giveaways will help attract students to come back and make sure they're involved," Parsons said.
According to Parsons, the idea of Party in the Plaza was actually coined by UNF's Senior AD of Finance & Administration, Nick Morrow.
"He thought this would be a great way to supplement, making sure that we have pre-game event for our students. We decided to partner with UNF Campus Life to make sure that we are doing it inclusively and making sure we hit a lot of different groups of students instead of just one pocket of students that usually come to our games," Parsons said.
Parsons is hopeful that this event will bring more students into the games.
"We think that we're really making a strong effort to give the students what they want and we're using this first Party in the Plaza to test run what our students really want. After that event, we're going to get a lot of feedback from our students to see what they like or didn't like, and what they want. It's really student based and student oriented and we want to make sure they're enjoying themselves and want to be a part of it," Parsons said.
The first Party in the Plaza will occur on the home opener for Men's Basketball against Edward Waters on Wednesday, Nov. 14 at 5:00 p.m.
—
For more information or news tips, or if you see an error in this story or have any compliments or concerns, contact [email protected]