A "Meso" Success: UNF assistant professor creates the first room-temperature metallic
Imagine better quality and durability of electronics, such as our beloved smartphones and game consoles, yet at a cheaper cost. Stephen Stagon, UNF assistant professor of mechanical engineering, may have created the invention that turns this possibility into reality.
MesoGlue, the first room-temperature metal adhesive, is an almost entirely non-toxic, pollutant-free and animal cruelty-free super glue that has the ability to improve the lifespan of electronics and new technology.
"It forms air-tight and water-tight seals. For things like optics, microelectronic devices, and the like, these devices need to be held in an air-tight and water-tight space, and can't be heated up much above room temperature," Stagon said. "Unlike polymer glue, it doesn't leak any air. Unlike soldering, brazing or welding, it can be done at room temperature. It's the first real solution to the problem that meets both needs without sacrificing either."
Stagon hopes that Mesoglue can replace any soldering, brazing or welding in the future production of electronics as these procedures create massive amounts of heat that could cause devices to crash.  
In a previous interview with Spinnaker, Stagon mentioned that the metallic adhesive is also a great conductor of both electricity and heat, helping computers run more efficiently without overheating.
"We wanted to be able to make something that was conductive, strong and resistant to wear and resistant to time," he said.
The idea for Mesoglue started around 2009 or 2010 while Stagon and his team researched solar technology and realized there were lots of new possibilities that were held back only by the inability to have air and water-tight seals.
"We ended up stumbling on some inventions from the 1940s and 1950s from the dental industry that had sat dormant, since [patents expire after 17 years]," Stagon recalled.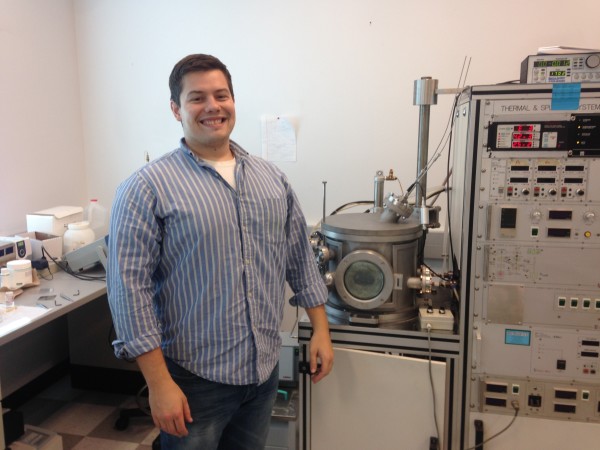 "We took the idea, ran with it, added in a lot of new science and technological advances that have happened over the last 70 to 80 years, and came to a spot where we have a real product now that is as easy to use as glue and works really well."
Plans for the mass production of MesoGlue within the next year spark hopes for Stagon that his hard work will result in his product being sold under contract to companies that use it in technology that will eventually go to the hands of consumers.
But Stagon and his research team aren't the only ones who will benefit from the invention, nor does he plan on abandoning teaching throughout the development of the potential company.
"This is something that I don't think has really prospered here at UNF, and I plan to take what I learn from this start-up and share it with my students," he explained. "I hope to help my students launch their own start-ups in the future."
The University also owns a portion of Stagon's intellectual property, which means, if successful, royalties could go to UNF and potentially be used for research funding, student graduate assistantships and new science equipment.
"I hope to be a part of this as much as I can, and learn as much as I can as I go. I think being a part of a launch will help me to be a better technical leader and mentor to my students. Hard technology start-up founders don't get rich overnight, so even if MesoGlue is very successful as a business, I still promise to be in the classroom and my lab at UNF with my students."
—
For more information or news tips, or if you see an error in this story or have any compliments or concerns, contact [email protected].