Bond notches third straight double-digit performance in win over Warner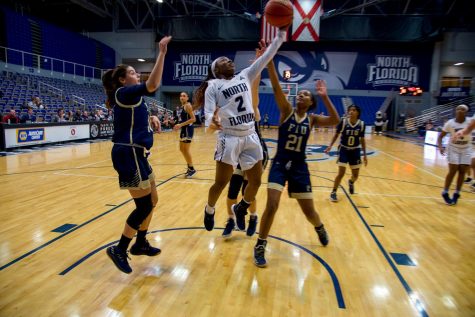 After a tough loss to Alabama A&M, the Ospreys rebounded with a 67-36 win against the Royals.
The Ospreys showed their athleticism and grit early in the game when Senior Arianna Emanuel-Wright missed a jumper but got her own rebound and finished with a two. At the first timeout with 4:30 left, the Ospreys led 9-7 as they made 4-9 shots from the field. Junior Valeria Merlos nailed a three-pointer to pull the Royals within two, 12-10 UNF. At the end of the first quarter, the Ospreys maintained a 15-10 lead, despite shooting under 30 percent.
Junior Jazz Bond got the second quarter started with an and-one play in the paint, extending the lead to 17-10.  The Ospreys busted the gates open in the second quarter, going up 26-12 with 4:45 left. In the second quarter, the Ospreys were locked in on the defensive side, forcing seven turnovers At halftime, the UNF led 34-15. Although they shot 36 percent from the field, UNF scored 12 of their points off turnovers. Emanuel-Wright led the team in points (11) in the first half.
Bond discussed the team's aggressiveness throughout the game.
"In the past games, we've been passive on defense and we just talked to each other before this game and we made sure that we would go out there aggressive and make sure we would get stops," Bond said.
The Ospreys continued to dominate in the second half, forcing 11 turnovers. As the UNF defense continued to stifle the Royals offense, the Ospreys coasted to a 67-36 win.
Coach Darrick Gibbs talked to the Spinnaker about the Ospreys defense.
"The consistency of the defense, there's been moments where we've been really good defensively and active and aggressive.I thought tonight we were consistent, our guards were active up top and putting pressure. Anytime you give up 36 points on 25 percent shooting, you'll take that," Gibbs said.
Bond led the team in rebounds (nine) and recorded her third-straight double-digit scoring game (13). Emanuel-Wright led the team in scoring with 16 and grabbed seven rebounds. Freshman Cheyenne Patrick scored 12 points off the bench on all threes.
Bond also talked with the Spinnaker about her performance against Warner.
"I was just trying to make plays for my team. I give all the credit to my teammates for finding me and I was just trying to finish plays," Bond said.
The Ospreys finish 5-1 at home in non-conference and play one last game in 2018 at Ole Miss on Friday, Dec. 28 at 2 p.m.
—
For more information or news tips, or if you see an error in this story or have any compliments or concerns, contact [email protected].