Ospreys cruise for historic home win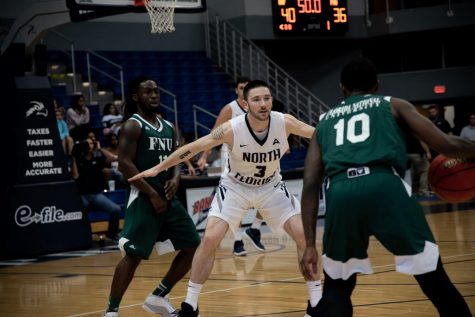 After defeating the Florida National University Conquistadors, the UNF Ospreys Men's basketball team earned home win number 200 in team history.
The Ospreys returned from a trip to Auburn in which they were badly beaten, looking for a bounce back win in front of their home crowd.  They entered the game never having lost against a non-Division 1 opponent (19-0 all time).
The first half saw plenty of back and forth action, with Junior Garrett Sams leading all scorers with 14 points.
"When you play with great players you get open looks, so that's just kind of what happened so I got a couple of open looks and they just fell down," Sams said of his hot start.
Leading scorer on the season Junior Noah Horchler couldn't find the bottom of the net, scoring just six points on 2-10 shooting but contributed by attacking the boards for 11 first half rebounds. At the break, the Ospreys led 40-38, despite shooting poorly, at just under 39 percent from the field and 29 percent from behind the arc.
The Ospreys opened the second half with a 13-point run in the first four minutes to open a lead which they would never relinquish. UNF's size was an advantage, as they led both in rebounds (45-33), and points in the paint (48-36).  The Ospreys fired on all cylinders in the second half, boosting their shooting to 49 percent for the game and 42 percent from the three-point line.
Despite going 6-17 from the floor, Horchler continued to attack and contributed in with 15 rebounds to pace the team.  Sams led the team in scoring for the night with 22 points.Four of five starters scored in double figures for a balanced attack.
85 of the 200 home wins have come under current head coach Matthew Driscoll.
"Playing at home is great…it's great to play at home and we've been successful because they can feed off that different stuff," said Driscoll.
The Ospreys (5-9)  stay home and begin conference play when they take on North Alabama on Saturday, Jan. 5 at 5 p.m.
To see photos from the game, click here.
—
For more information or news tips, or if you see an error in this story or have any compliments or concerns, contact [email protected].