Ospreys tame Lions to begin conference play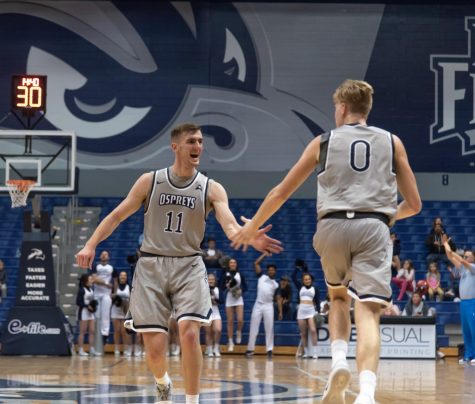 In their first game ever playing each other, the Ospreys won against North Alabama behind a solid shooting performance.
As the game began, the Lions jumped out to an early 4-0 lead. Junior Noah Horchler scored the first points for the Ospreys on a step-back jumper. Soon after, Junior Ivan Gandia-Rosa made a layup in traffic to tie the game back at four. After that layup, the Ospreys tightened up and dominated the Lions with their attack.
Horchler showed a strong post presence in the first half, scoring 13 points with three rebounds and two blocks. Late in the half, Junior Wajid Aminu leaped up and and came down for a rim shaking alley-oop that caused the crowd to erupt. At halftime, the Ospreys led, 48-27. The team shot 62.5 percent from the field and made half of their threes (7-14).
Freshman Jamari Blackmon of UNA scored first points of the second half half on a heads up play in the paint. The Lions had a 7-0 run entering the half but the Ospreys answered back with a three-pointer from Redshirt-Junior J.T. Escobar. North Alabama began playing physical defense, forcing their match-ups out of their designed spots on offense.
With eight minutes left, the Lions got within 15 of the Ospreys. Freshman Christian Agnew was leading the Lions offense throughout the game with 20 points. The Ospreys eventually pulled away and earned a 96-67 win. UNF finished the game shooting 61 percent from the field.
Horchler finished the night with 23 points, going 11-15 from the field. Gandia-Rosa scored 16 and dished out eight assists on the night. Aminu was hosting a block party at UNF Arena as he swatted away six shots.
Coach Matthew Driscoll talked to the Spinnaker on his thoughts about the team's performance.
"I'm really really proud of our ability to continue to get better and to withstand some things that occur when you play games like this in the league, sixteen games into the season," Driscoll said.
The Ospreys head to Nashville on Wednesday, Jan 9 to play Lipscomb at 7:30 p.m.
—
For more information or news tips, or if you see an error in this story or have any compliments or concerns, contact [email protected].