Goff gets called up to the big leagues
Cory Goff, a senior student manager for UNF Baseball for three years, was signed by the Milwaukee Brewers to be a clubhouse manager for their High-A affiliate, the Carolina Mudcats.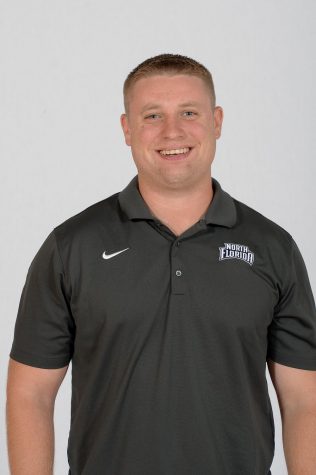 This past winter, Goff traveled to Las Vegas to the MLB Winter Meetings in hopes of working with a team once he graduates.
"I talked to some people in baseball and asked what my next step was, and they said to go out to the Winter Meetings," Goff said. "As a fan, I've seen the side of it of seeing all the famous people and all of the big-time execs, but getting to see it from a different side, the business side of it was really cool."
This wasn't a vacation for Goff as he went to different sessions to learn more about the different areas of working in baseball.
"I went to a lot of seminars, a lot of learning about what it's like to work in baseball, how to get into it and stay into it," Goff said. "Opportunities are very limited in baseball, you mainly have to start in Minor Leagues and kind of work your way up. It's all about who you know and who can get you in a certain position."
After a week of interviews with different teams, Goff didn't get many calls because his resume showed that he was graduating in April.
"My two positions that I was there for were baseball operations jobs and maybe a clubhouse manager job," Goff said. "They had quite a bit of clubhouse manager jobs but I wasn't getting too many calls from them. A reason for that was on my resume, I had that I was graduating in April."
In an attempt to receive more offers, Goff sent emails to teams about his info and availability.
"At the end of the week, I sent out an email to everybody that I applied to and went more in depth with who I was and that I was ready to start immediately and that's when the offers started flooding in," Goff said. "The next day, I woke up and got like 20 emails from people and that's when it started to move fast."
The Brewers finally reached Goff and he found the perfect fit.
"The Brewers called and I talked to them, the unique thing about the Brewers is they own their minor league teams so I'm actually a Brewers employee rather than a Minor League employee," Goff said. "That helps because my goal is to get into baseball ops at the big league level."
Although he'll be in North Carolina with the Mudcats, Goff won't forget his humble beginnings as a student manager for UNF Baseball.
"You have that bond with the players and to see all the hard work that you put in and what the guys put in, it translates to the field and to be a part of that is definitely worth it," Goff said.
Goff will get his first taste of the big leagues when he will work at the Brewers spring training complex in Arizona before working with the Mudcats. 
—
For more information or news tips, or if you see an error in this story or have any compliments or concerns, contact [email protected]