Cheryl Gonzalez bids goodbye to UNF community
On Wednesday, January 16, UNF hosted a farewell reception for Director of Equal Opportunity and Diversity, Cheryl Gonzalez. Faculty, staff, and students came together to say their goodbyes to Dr. Gonzalez and wish her the best in her future endeavors.
Gonzalez has been the director for eight years and during her time has created a safe and diverse environment for students and staff.
"Since I joined the university 4 years ago, Cheryl was one of the first people I met and it was clearly evident what impact she had on the University," said Brandi Winfrey, Associate Director for the Department of University Initiatives. "Seeing the work she did with EOD, Title IX, and just diversity inclusion as a whole. I'm currently Vice President of ASFA so I know all the great work she did as part of the steering committee, being one of its founders to get ASFA off the ground, to give us space, to African-American faculty and staff here at the university."
The room was decorated to honor Gonzalez and her work for UNF. The reception included refreshments, food, and a cake wishing Gonzalez luck on her future endeavors.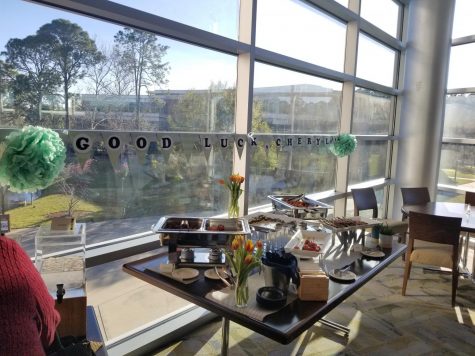 The reception ended with Gonzalez gifted a plaque to commemorate her time at UNF. Afterwards, Gonzalez gave a speech and thanked everyone for her time at UNF.
"It's been a great journey here," explained Gonzalez. "There's still a lot to offer and a lot to give to the community. It's my time to keep moving forward. I'm very encouraged by what I see about the strives gained and maintained and of course, there's an opportunity for more and more people to come in and make thing get better."
But Gonzalez wasn't the only who had thanks. Faculty and staff members came up to Gonzalez individually and thanked her for all she had done for the university.
"Thank you for all the great work you did to further equity diversity inclusion here in the University of North Florida," said Winfrey. "You're going to be truly missed as a voice and an advocate for change and best wishes in all that you do."
—
For more information or news tips, or if you see an error in this story or have any compliments or concerns, contact [email protected]