Ospreys stifled by Flames' defense in tough road loss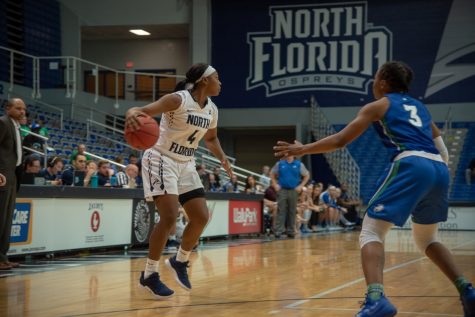 After staying even in the first half, the Ospreys had a hard time finding the net due to Liberty's physical defense which resulted in a 53-69 loss.
The Flames opened up the game with a three-pointer by Redshirt-Sophomore Emily Lytle to put the home team ahead. Junior Dasha Eremeeva countered with a triple from up top and Redshirt-Sophomore Jazz Bond joined the three party with one of her own which fueled an Ospreys 8-0 run. The Flames chipped away at the lead as Sophomore Bridgette Rettstatt finished a layup to put Liberty up, 12-11. At the end of the first quarter, the Ospreys led 16-15 as Bond led the team with seven points.
In the second quarter, Freshman Amy West put the Flames up, 17-16 on a mid-range jumper and Liberty's defense began to show out. Both teams traded points throughout the quarter as no team looked to pull away. Junior Janesha Green made a heads-up play where she attempted a three-pointer from the right wing and stole the ball from the Liberty rebounder as she made a layup close to the rim. At the end of the first half, the Flames were up, 28-25. The Ospreys had a hard time making their shots as they made a miniscule 29 percent in the first half. The Flames were out-rebounding the Ospreys as well (29-20). Lytle led the Flames in scoring in the first half with 11 points.
Liberty continued to lead in the second half but Freshman Lauren Gross hit a three-pointer to cut the lead to four, 37-33 Flames. The Flames' defense continued to engulf the Ospreys on the offensive side of the court as the Ospreys struggled to find points inside, UNF had four points total in the paint in the second half. At the end of the third quarter, the Flames were leading, 46-36.
It was all Liberty in the fourth quarter as the Flames were filled with energy as they pulled away with the win, 69-53. Four of the starting five members of Liberty scored in double-digits throughout the game. Senior K.K. Barbour and Rettstatt combined for 30 points and 20 rebounds for Liberty.
Bond recorded her second double-double of the season as she recorded 16 points and 10 rebounds. Green scored 10 points off the bench and Senior Ty Purifoy dished out a career-high 10 assists.
With the loss, UNF drops to 7-9 (2-3 ASUN) and the win bumps Liberty up to 6-12 (2-3 ASUN). The Ospreys return to Duval County as they play at home against cross-town rival, Jacksonville University on Tuesday, Jan. 22 at 7 p.m.
__
For more information or news tips, or if you see an error in this story or have any compliments or concerns, contact [email protected]