Ospreys commit 24 turnovers in loss at Kennesaw State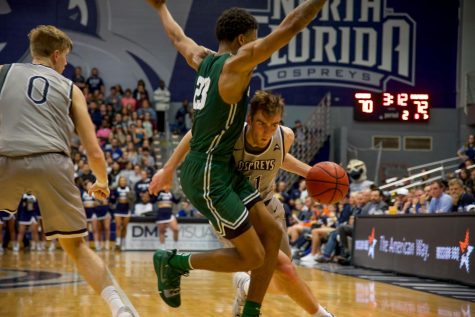 The Ospreys had been playing well over the last three games before losing close games down the stretch.  The game against Kennesaw State was not that close. The Ospreys shot poorly, never led, and turned the ball over constantly en route to an 81-64 loss. 
Freshman Carter Hendricksen started for the Ospreys, hitting a three pointer on his first attempt.  That shooting wouldn't last though, as UNF struggled from the field and from three the rest of the way.
Kennesaw State's leading scorer, Redshirt-Junior Tyler Hooker, set the tone for his team early, scoring eight points in the first ten minutes of the game.  He would finish with 15, but the rest of his team would pick up where he left off.
The normally sharpshooting Ospreys had a dismal night, going 4-13 from beyond the arc in the first half.
UNF also gave up possession 13 times in the first half, leading to 12 points for their opponent.
The Owls led 38-28 at the half.
After the break, the Ospreys pulled to within eight points, closing the gap to 45-37.  Redshirt-Junior J.T. Escobar had 12 points on the game, hitting 3-6 from downtown, and 3-8 overall.
The Ospreys had little to cheer about as they continued to turn the ball over (11 more in the second half), and the game continued to get away from them.
The Owls' lead hovered around 15 points and ballooned to as many as twenty.  They had four players who scored more than 15 points for the game.
The normal scoring balance of the Ospreys was missing this game, as only three players were in double figures, the highest being Escobar's 12.
The Ospreys' leading scorer on the season, Junior Noah Horchler, scored only nine points, going 3-12 from the field in only 22 minutes.
Junior Ivan Gandia-Rosa went 0-5 from the field and finished with 1 point.  He chipped in a solid eight rebounds and seven assists.
The loss drops UNF to 9-15 (3-6 ASUN) and the win boosts Kennesaw State to 4-18 (1-6 ASUN).
UNF looks to snap a five game losing streak with a home game against Lipscomb on Wednesday, Feb. 6 at 7:00 p.m.
—
For more information or news tips, or if you see an error in this story or have any compliments or concerns, contact [email protected]