Male posing as UNF student reported following girls around on campus
On Feb. 4, UNFPD responded to a call at Osprey Cove about a suspicious male who attempted to make conversation with and follow two girls to their dorm. According to the report, shortly after the call police began searching for the individual described and positively identified the man between the Fine Arts Garage and the Fine Arts Center.
The man, identified as 31-year-old Aaron Clark, stated he was homeless and had a felony arrest for grand theft and possession of marijuana in 2009 in Nassau County.
The report goes on to say that Clark told police he was not a UNF student and that he had been on campus four times in two weeks looking for a girlfriend.
Clark told UNFPD that he often spends the night in the parking lots of local hotels and was on campus the night before, but never left his car.
The individual was escorted off campus by police and issued a trespass warning.
The University released an alert Wednesday morning revealing more details about the case. He has been identified as the owner of a black 2018 Jeep Wrangler. Although he didn't commit a crime on campus and never threatened any students, UNFPD is still to be contacted if any students see him on campus.
The release also detailed the importance of students being aware that although the story's circulation on social media related this circumstance to a recent one at the University of Florida, the two cases are not related.
The university commented that an alert was not sent out on the day of the incident because the man was removed from campus promptly and without threat to campus safety.
If anyone sees this individual on campus, they should contact UNFPD at 904-620-2800.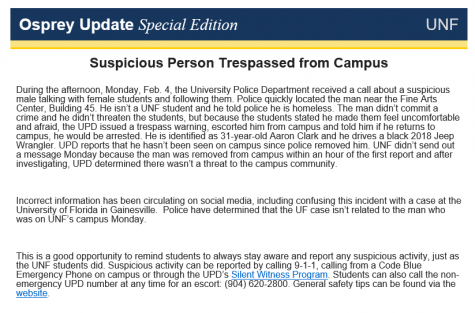 *Updated @ 10:55 A.M. on Feb. 6
__
For more information or news tips, or if you see an error in this story or have any compliments or concerns, contact [email protected]