Suspicious box outside of Osprey Hall causes confusion among students
*UPDATED: 4:05 p.m.
The University of North Florida Police Department responded to a call about a suspicious box located near a trash can located outside of Osprey Hall Monday afternoon.
UNFPD found the student who created the box and she stated it was an art project. She told police that she placed her project next to the trash because her other classmates had been doing the same and that some of the wording on the box were lyrics from a song.
The campus police advised the student for future purposes, that she break down the project completely in order to avoid confusion throughout the campus community in the future.
The tall, white box, covered in red to symbolize blood, had words written on it which appeared to have suicidal messages saying "no one believes me". The report says the box appeared in front of the dorm between 5 p.m. and 6 p.m.
UPD had RLC's conduct a check of all rooms in Osprey hall in order to make sure no one was in distress. During the check, two witnesses came forward and told UPD they saw a woman who was carrying the box. The witnesses also told police they believe that it could have been an art project.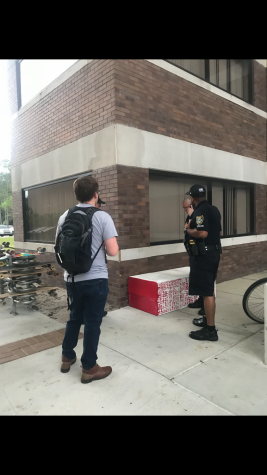 It was later on revealed that the words written on the box were lyrics to "No one believes me" by rapper, Kid Cudi.
Students who saw the box said it was deeply concerning.
"It made me kind of scared because it could be a call for attention or it could be someone that wants to hurt other people because they are hurting them," Freshman Kellie Kosmitis said.
The investigation is complete until further notice.
—
For more information or news tips, or if you see an error in this story or have any compliments or concerns, contact [email protected]