Flames clip Ospreys and move onto ASUN Championship Finals
The Liberty Flames, with a berth in the ASUN Conference Championship Finals on the line, defeated the streaking UNF Women's Basketball team, 65-51.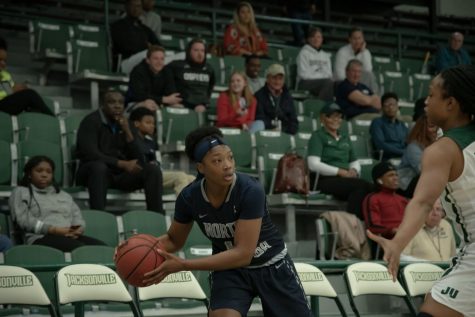 The Ospreys arrived in Lynchburg, Virginia on a four-game winning streak, looking to add a fifth.  Redshirt-Sophomore Jazz Bond opened the game with a block, looking to set the tone for the stingy Osprey defense.
In the first quarter, however, it was Junior Adrienne Jackson's offense that led the way.  With the Flames defense focused on containing Bond, Jackson made Liberty pay, scoring eight points in the period, capped off by a juggling mid-range jump shot at the buzzer for an Ospreys 15-14 lead.
In the previous matchup against the Flames this season, Jackson scored 19 points on 7-8 shooting to tie for the team lead.  She continued her hot shooting into the second quarter, showcasing her range on the court.
While Jackson made shots, the Ospreys defense continued to give the Flames fits.
UNF Women's Basketball Head Coach Darrick Gibbs switched between different defenses throughout the game, going from 2-3, to 1-3-1 zone and back to man-to-man.
Just as the Ospreys tried to pull away, the Flames scored a quick four points in transition to take the lead.  On the final possession, Junior Dasha Eremeeva scored on a turnaround shot in the lane to knot the score at 29 going into the half.
UNF worked to get Bond going early in the second half and she responded with two quick scores in the paint. The third quarter would belong to the Flames however, leading by as many as eight, and finishing the period leading, 44-37.
After the blazing first half for Jackson, she was held scoreless in the second.  The Ospreys were left looking for answers offensively.
Two minutes into the fourth quarter, UNF trailed by 12 points after Redshirt-Sophomore Emily Lytle hit her fourth trey of the game for the Flames. 
The Ospreys were seemingly beaten to every loose ball and couldn't hit shots. Along with the Ospreys shooting woes, the Flames milked almost the entire shot clock on every possession.
With just over three minutes remaining,  Liberty led by 16.
North Florida was only able to score 15 points in the second half, as they eventually lost, 65-51.
Three Ospreys finished the game in double figures, led by Jackson with 16 points.
UNF ended the season 15-14 (10-7 ASUN), their best record as a Division One program. After reaching the ASUN Semifinals in back-to-back seasons, the Ospreys look to climb up to the ASUN Championship Finals next March.  
—
For more information or news tips, or if you see an error in this story or have any compliments or concerns, contact [email protected]