Ospreys fall short in ASUN Beach Volleyball Semifinals
The UNF Beach Volleyball team's season came to a halt after thrilling back-and-forth matches with FGCU that resulted in a 3-2 loss.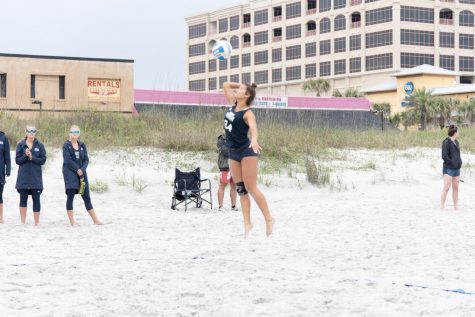 The pair of Sophomore Callie Workman and Freshman Dana Roskic were dominant as they defeated FGCU's pair consisting of Freshman Emma Hansen and Junior Giovanna Borgiotti in a quick 2-0 fashion.
The Eagles earned their first win of the series led by Sophomores Courtney VanLiew and Alayna Ryan as they recovered from losing the first set to UNF's Freshman Kirby Smith and Sophomore Lauren Galinis, 19-21, by winning the next two to tie up the series at 1-1.
In a quick counter, UNF's pair of Seniors Chaney Howard and Brittany Pase defeated FGCU's pair of Senior Amanda Carroll and Freshman Kirstine Garder in two straight sets to regain a 2-1 lead.
The Eagles fought back as their pair of Seniors Katherine Puisis and Karissa Rhoades won in two quick sets against UNF's pair of Sophomore Carolyn Cain and Junior Antonia Harrison to tie it up at two.
It all came down to the final match between UNF's pair of Junior Madilyn McCarty and Senior Nicole DeBolt taking on FGCU's pair of Sophomores Kayla Whetstone and Snowy Burnam. The Eagles took the first set with a 21-15 win and UNF rallied back with a 21-18 win in the second set. In a close contest, FGCU edged out with a 15-11 win to advance themselves to the finals against Stetson.
The Ospreys finished the season with a winning record of 20-14 (6-2 ASUN) and six members of the team were awarded postseason honors (Roskic/Workman, Howard/Pase, and DeBolt/McCarty).
__
For more information or news tips, or if you see an error in this story or have any compliments or concerns, contact [email protected].