Inside sneak peek of Disney's new park: Galaxy's Edge
On August 29th Star Wars fans will be in for the time of their lives with Disney Parks new land. Hello Ospreys, this is Kenny and David and we're here to give you a sneak peek of Disney's latest land, Star Wars: Galaxy's Edge.
Ever since Disney announced this new land a few years ago, fans all over the world have been saving up for Disney passes and polishing their Star Wars costumes for when they visit the new park. As you can imagine expectations are currently through the roof. But does the new land live up to the hype? Will guests finally be able to live out their fantasies in a galaxy far, far away? Well we're here to tell you all about our experiences and the cool details that lie within. So sit back, relax as we give you our thoughts on Galaxy's Edge!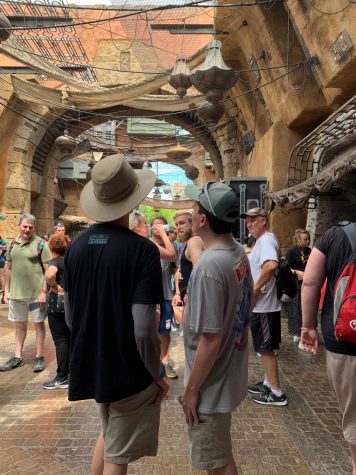 RESISTANCE SUPPLY
The park's setting takes place in between the events of The Last Jedi and The Rise of Skywalker. As you are entering the land, it is revealed the Resistance have established a hidden base at the Black Spire Outpost on the planet Batuu, a forested planet in the Outer Rim Territories on the edge of Wild Space. Trouble is not far behind as the fearsome First Order has made their presence on the planet to hunt down the rebels. This is made clear when you enter the park you see what looks like a hidden Resistance base. The area includes an X-wing and A-wing starfighter that fans of all ages can take pictures and pose with. If those aren't cool enough details for you, look at the ground and you'll see droid tracks and the sound of starships flying above that give a sense of authenticity as you move around the area. This section of Galaxy's Edge will be quite popular in the future as on December 5th 2019 a new attraction, Rise of the Resistance will open in the area. This innovative attraction will pit guests on the frontlines against the First Order and their supreme leader Kylo Ren.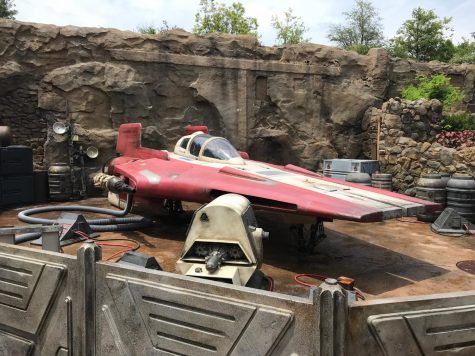 THE MARKET
Once you've gone past the outdoor Resistance base, you'll find yourself at the entrance to The Market. This is easily one of the most exotic places we've seen in any theme park. The amount of detail and variety of shops in this place is astounding. Here you'll be able to interact with creatures in the creature stall from adorable Loth-cats to huggable Porgs. It's a store all animal lovers will enjoy. After that you can continue your journey to Toydarian Toymakers, a toy store that contains action figures and dolls from every Star Wars era. Then last but certainly not least in the market is Black Spire Outfitters. Here you'll be able to purchase your own personal Jedi or Sith robe and come into your own sense of fashion in the Star Wars universe. As you exit the market you'll find yourself at Ronto Roasters. Here, guests are able to order grilled sausage, pork wraps, and even Star Wars themed Coke products while standing beside a massive podrace engine with a droid underneath that rotates the ronto meats for the guests to enjoy.
MILLENNIUM FALCON: SMUGGLERS RUN
After you exit the Market you will stare in awe and wonder as you come face to face with a life-size replica of the ship that made the Kessel run in less than twelve parsecs. That's right! We're talking about the Millennium Falcon! Here guests will be given the chance to pilot the ship and jump through lightspeed on a daring smuggling mission where they have to steal coaxium crystals from a First Order cargo ship. Guests will team up with the likes of Chewbacca and one of our favorite Star Wars characters from the past decade, the space pirate Hondo Ohnaka. For those who don't know, Hondo is a character who originated from the Star Wars: The Clone Wars and Star Wars: Rebels animated series. Over the years, he has become a favorite for fans of both series for his avaricious nature and great sense of humor. On top of all that he is voiced and brought to life by one of the greatests voice actors of all time, the legendary Jim Cummings. On the ride, six guests will enter the cockpit and be given control of the Falcon. Guests will be assigned one of three positions: pilot, gunner, and engineer. Your experience will depend on how well you do with the controls, but don't be worried. Staff will give you on-ride advice before your flight. Buttons and levers will light up when you need to push or pull them. It's a fun ride for anyone who wants to fly the fastest ship in the galaxy.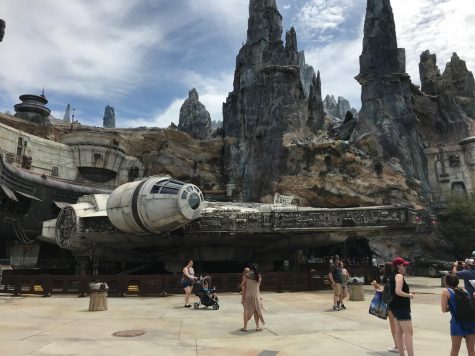 OGAS CANTINA 
As you're turning the corner from the Millenium Falcon, you will find one of the main dining locations in Galaxy's Edge, Oga's Cantina. Going here will make you feel like you're hanging out in the cantina from A New Hope. What's great about the drinks that they serve you is how they can take alcoholic and non-alcoholic beverages that are commonplace, and make it so that it looks and tastes like something from another world. Some of the drinks they serve are Jedi Mind Trick, Fuzzy Tauntaun, Bespin Fizz, Jabba Juice, and Blue Bantha. The Cantina even pays homage to the original Star Tours attraction by taking the main character from the ride Captain RX-24 voiced by Pee-wee Herman himself, Paul Reubens, and turning him into the Cantina DJ who provides entertainment to guests.
FIRST ORDER CARGO
After your experience at the cantina you'll come across the First Order section of the park. Here guests can go to the milk stand and taste blue and green milk while also keeping an eye out for stormtroopers who are crawling throughout the area. Guests will also have the chance to buy dark side merchandise which includes shirts and toys which are themed to the propaganda of the First Order. People who are wearing resistance clothing in this area be advised to keep a low profile as stormtroopers will have their eyes on you.

DROID DEPOT
The Droid Depot is an interactive experience where you get to create your own custom droid. Here guests can build their own droid using multiple parts and pieces found on a moving conveyor belt. The three types of droids guests can build are R2 units, BB units, and RX units. If you have young children with you who want the experience of creating something unique, the Droid Depot is the place you can take them. It will only cost $80 dollars to build one. Just don't tell your kids about the life sized R2 units which cost $25,000.

DOK-ONDAR'S DEN OF ANTIQUITIES
Located in the heart of Galaxy's Edge is a greatly themed gift shop known as Dok-Ondar's Den of Antiquities. If you are a huge Star Wars fan, you will love all the details they put into this store. There are glass cases with creatures from the Star Wars universe like a baby sarlacc and some swamp-like creature. There are holocrons of the Jedi and the Sith that you can purchase. That's not even counting all the easter eggs they placed on the wall and top shelves. Fans of the original, prequel, and sequel trilogies will have a field day trying to find them all. They even went all out by adding an entire animatronic of the Ithorian who owns the store, Doc Ondor. This animatronic can sit down, stand up, point its arms at objects, turn and talk. It just shows how far Disney has come with animatronics over the years. But the crown jewel of the store is where guests will be able to construct their own personal lightsaber. We didn't do this part of the store but we are seriously considering it for the near future. Each lightsaber costs $200 and comes in a variety of different colors including blue, green, purple, and red.
FINAL THOUGHTS
Overall, Star Wars: Galaxy's Edge is a grand experience that pays tribute to every aspect of the franchise. From blasting off in the Millenium Falcon to the immersive and well-themed shops and restaurants, Disney has truly outdone themselves by creating one of the greatest theme park lands in the galaxy. If you're planning on doing anything on the weekend or on the holidays be sure to check this place out. It is definitely worth your time.
—
For more information or news tips, or if you see an error in this story or have any compliments or concerns, contact [email protected]