UNF Athletics Weekend Recap
This past weekend, one team took down a power five juggernaut, another remained undefeated, and a Freshman made a statement in her first tournament.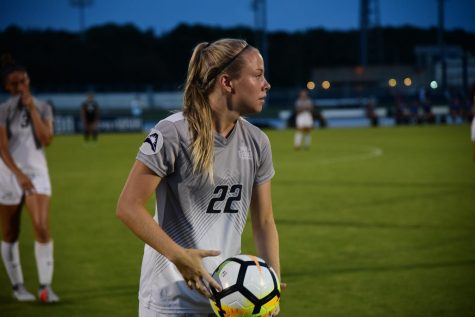 Ospreys dust Gators in dual meet
In their first meet of the season, No. 8 UNF Men's Cross Country defeated the No.8 Florida Gators by 22 points to start the season on a high note. 
Nathan Jubran won the race with a time of 14:50 as Leo Queyrou (15:01), Aidan O'Gorman (15:07), and Sem Sultanov (15:07) finished in order of third, fourth and fifth place. 
Three more Ospreys finished in the top 10 including Logan Horning in sixth (15:08), Rob Leverone in eighth (15:16) and Anderson Bobo in tenth (15:24). 
The Women's Cross Country team had three finishers in the top 10 against UF including Grace Gumpel in fifth with a two-mile time of 11:37, Raquel Lespacio in ninth (11:47) and Camryn Cooney in tenth (11:51). 
The Ospreys next meet is at the Mountain Dew Invitational in Gainesville, FL on Saturday, September 14. 
UNF Women's Soccer wins two on road to remain undefeated
The Ospreys had a strong performance this weekend as they defeated Presbyterian 3-1 on Friday and shutout Charleston Southern 3-0 on Sunday.
After a goal from Vanessa Piermont tied the game in the 42nd minute before halftime against Presbyterian, the Ospreys added two more goals in the second half from Thais Rheiss to secure a 3-1 win. The Ospreys fired off 18 shots in that match and held the Blue Hose to five. 
In their Sunday matchup against Charleston Southern, Rheiss broke the seal open early with her fifth goal this year in the 9th minute assisted by Sophia Thompson for an early 1-0 UNF lead. 
USF-transfer Leah Ferlin added an insurance goal in the 55th minute with an assist from Hollyn Knight to push the lead to 2-0. 
Kendra Hoffman lofted a corner kick in the 82nd minute for Vanessa Piermont to knock it past the Goalkeeper to cement the 3-0 win. 
UNF's next game is against FIU in Hialeah, FL on Friday, September 6. 
Moro makes early impact in UNC-Wilmington Tournament
In their first tournament of the season, the UNF Volleyball team took one of three series as Freshman Rocio Moro excelled in her first time as a starter. 
In the first series against Charleston Southern, the Ospreys won on a clean sweep but were defeated by the home team, UNC-Wilmington later that day, 3-1. 
Moro collected 16 digs at the Libero while Redshirt-Junior Gabby O'Connell, Senior Taryn Griffey, and Junior Miriam Stingl collected 10 kills each. 
In the final series of the weekend, the Ospreys were swept by Duquesne, 3-0. In that final series, O'Connell had nine kills paired with nine digs, Freshman Julianna Askew set up 17 assists, and Moro dug up 15. 
The Ospreys return home for the UNF Invitational starting on Friday, September 6 at 10 a.m. 
—
For more information or news tips, or if you see an error in this story or have any compliments or concerns, contact [email protected]