Hatters pull off reverse sweep against Ospreys
Featured image by: Darvin Nelson
After taking the first two sets, the Ospreys' lead slipped away as Stetson won three straight sets for a reverse sweep.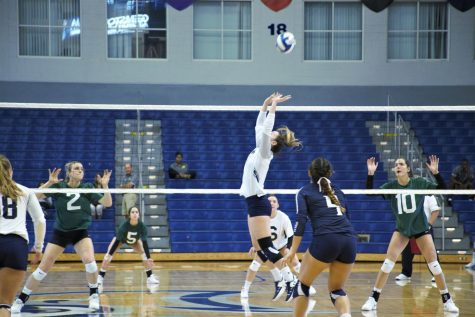 The Ospreys took an early lead in the first set, opening the match, 10-4. However, the Hatters were able to claw their way back and took the set to 25-25. North Florida closed the set with consecutive points, winning it 27-25.
The second set looked similar to the first. The Ospreys jumped out on an early 7-2 run, but Stetson refused to go down. The two teams fought back and forth as the Hatters reached within a point of taking the set in UNF's 25-24 set win. The Ospreys ended the set with three clutch kills; two from Taryn Griffey and one from Solimar Cestero.
The battle continued in the third set with each team giving their all. The score was tied 11 times throughout the set and there were three lead changes. Stetson's Elena Djokovic's five kills helped keep the Hatters alive and win the set, 26-24.
With a strong performance in the fourth set resulting in a 24-22 win, the Hatters were able to extend the match to a decisive fifth set. Stetson was led by Alejandra Perez in the win, tallying four kills on four attacks. For the Ospreys, Cestero also put up four kills.
Points were at a premium in the final set. Rallies were longer as both teams buckled down their defenses to deny the other side points. Despite another four kills from Cestero, the Ospreys could not pull past the Hatters, losing the set, 15-13. 
"They (Stetson) started playing better. Their execution improved, they passed better… Our unforced errors are what killed us," UNF Volleyball Head Coach Kristen Wright said about the performance for both sides throughout the match.
With the win, Stetson moves up to 8-11 (5-4 ASUN) while UNF falls to 10-14 (3-6 ASUN).
The Ospreys will look to bounce back against Lipscomb on Sunday, October 27 at 1:00 p.m. at UNF Arena.
__
For more information or news tips, or if you see an error in this story or have any compliments or concerns, contact [email protected].