Hendricksen leads charge over Conquistadors
Featured image by: Dan Parker

Video by: Brett Nweeia

In a surprisingly competitive game, Carter Hendricksen and the Ospreys heated up in the second half to escape with an 89-81 win over Florida National. 

[embedyt] https://www.youtube.com/watch?v=O_4t1FQLjKA[/embedyt]

The Conquistadors were unexpectedly hanging tough with UNF throughout the first half. 

A jumper from Kenneth Santos tied the game at 16 for the Conquistadors with 12:33 left. 

The Ospreys barely clung to a 38-35 lead at the half with Hendricksen leading the Birds of Trey with 12 points while grabbing six rebounds. 

Wajid Aminu and Ivan Gandia-Rosa each scored 10 points throughout the first half. 

The Ospreys found their footing in the second half, going 7-15 for three-pointers.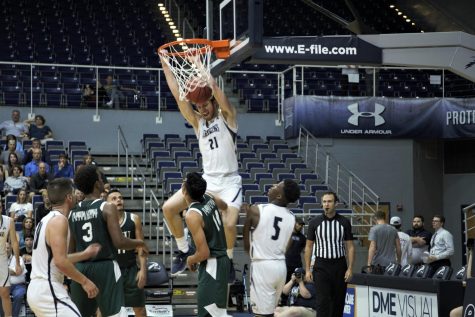 There was even a sequence of back-to-back-to-back threes from Garrett Sams and Gandia-Rosa. 
The Conquistadors continued to stay in the game up until Escobar's three-point dagger that gave the Ospreys an 89-76 lead with two minutes left in the game. 
After a final three-pointer from Santos, it was too little to late for the Conquistadors as the Ospreys won, 89-81. 
Hendricksen led the Ospreys in scoring with 20 points and Josh Endicott led the team in rebounds (9). 
According to Aminu, the team has been harping on defending and rebounding.
"We need to defend and rebound and those are the things that we've been harping on so we feel like we didn't do a great job of that but at least we got the win," Aminu said. 
In regards to the unexpectedly competitive game, it all comes down to makes and misses, according to UNF Men's Basketball Head Coach Matthew Driscoll. 
"You got to make shots and you got to make plays for each other and I thought we didn't do that as well as we could," Coach Driscoll said. 
The win improves the Ospreys' record to 1-1 as the Conquistadors drop to 0-1.
The Birds of Trey stay home and take on Georgia Southern on Monday, November 11 at 7:00 p.m.
__
For more information or news tips, or if you see an error in this story or have any compliments or concerns, contact [email protected].