Endicott rebounds from shoulder injury, returns to court
Featured image by: Darvin Nelson
Video by: Drew McDonald, Brett Nweeia, and John Watson
When a shoulder injury derailed his baseball career, Josh Endicott found success on the basketball court that led to a roster spot with UNF. 
[embedyt] https://www.youtube.com/watch?v=8cdpowfpNkg[/embedyt]
As a southpaw who had a tall and lanky build, Endicott was compared to Randy Johnson and Chris Sale while he was pitching in high school, reaching 89 with his fastball. 
"In high school, I sat 86-88, hitting 89 most of the time throughout the inning," Endicott said. "I had a pretty good curveball and I had a really good changeup that I would throw behind the count, up in the count, full count, it didn't matter."
The Baxter, Tennessee native wasn't just a standout on the diamond, earning All-State and District MVP in his senior year on Upperman High School's basketball team. Ultimately, Endicott chose baseball once graduating high school. 
"Baseball front offices and organizations are looking for big left-handed guys," Endicott said. "I fit that criteria pretty well, being over 6-foot-5, long, lanky and left-handed. I felt that was the best option for me at the time."
Endicott earned a baseball scholarship to the University of Cincinnati, which was only a four and a half hour drive from his house in Tennessee. 
One snowy night in Cincinnati, Endicott and his friends decided to go sledding on cafeteria trays.
"We're going sledding, we're having a great time," Endicott said. "The last time going down the hill, I hit a bump and all my weight landed on my left armpit. I separated my collarbone from my shoulder, which is the AC joint, and it was a third-degree because I separated it from my shoulder and I tore my ligaments and tendons around it."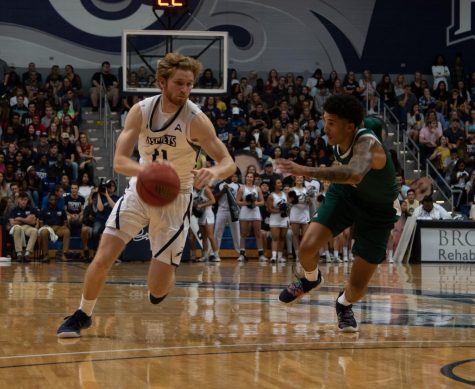 The injury put Endicott on the shelf with a medical redshirt, forcing him to sit out in his freshman season. 
When he came home and talked with his parents the following summer, Endicott decided that he should give basketball a shot. 
"I didn't think about basketball until I went home for the summer in May," Endicott said. "We talked about it and they asked if I thought about picking up basketball again. I never thought about it… maybe I need to think about this and go that way, too."
When Endicott transferred to Motlow State Community College for basketball, there was some rust in his first few games, but he improved throughout the season. 
"There was a lot of rust," Endicott said. "Going to Cincinnati, I hadn't played a basketball game in almost two years. As the season went on, I started to get back in my groove."
When the season ended, Endicott averaged a double-double with 10 points and 10 rebounds a game, while being awarded the league's Defensive Player of the Year award. 
While eating with friends at a Buffalo Wild Wings, Endicott received a call from his future coaches at UNF. 
"I get a call from Coach Perkins and it's Coach Driscoll," Endicott said. "We talked for about 45 minutes and he told me he was coming down to see me. We talked for a couple of hours when he got to Motlow, but so far, I love the man to death."
The relationship with Driscoll and the coaches sealed the deal for Endicott. In his first game as an Osprey, Endicott had the opportunity to play against the then No. 6 Florida Gators, going 3-3 from the field with six points and pulled down three rebounds.
"It was awesome, I loved it. I love seeing how I stack up to guys that go to these power five conferences," Endicott said. 
Driscoll is no stranger to coaching two-sport athletes. At Baylor, he coached Kendall Wright, who also played wide receiver for the Bears football team and later on went 20th overall in the 2012 NFL Draft. The UNF Men's Basketball Head Coach mentioned the advantages of coaching two-sport athletes and what Endicott brings to the Birds of Trey. 
"Two-sport athletes are a good thing because of their dexterity, what they can do," Driscoll said. "He's so nimble on the floor. I love that about him and he's super competitive and because of that, I think that really is going to help our guys as we move through this non-conference and get ready for our tough conference battle."
After being completely cleared by the doctors for his shoulder, Endicott believes he has a chance of returning to the mound. 
"I'm completely cleared. I have no limitations within me that I can do with my shoulder," Endicott said. "I just have to rehab it, get back on a throwing program and get back on the mound."
Whether it's throwing fastballs on the mound or dominating the glass on the court, Endicott looks to do it all in is UNF career. 
__
For more information or news tips, or if you see an error in this story or have any compliments or concerns, contact [email protected].