Garza, Hawkeyes heat up late against Ospreys
Featured image by: Darvin Nelson
Sparked by a 17-4 run early in the second half, the Iowa Hawkeyes pulled away from the Ospreys with a standout performance from Luka Garza in an 83-68 win.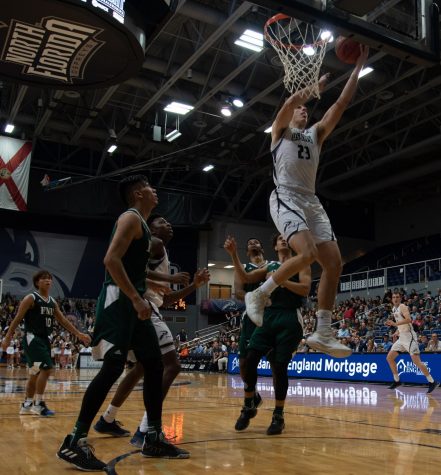 The Ospreys came out firing in the first half with an early 14-9 lead behind five points each from Wajid Aminu and Carter Hendricksen. 
The Birds of Trey would go into halftime down 39-35, exceeding expectations and prime for an upset over a Power Five school.
The Hawkeyes, however, were not having it. They looked like a different team coming out of the break, outscoring the Ospreys by 11 in the half.
The Hawkeyes' frontcourt giant, Luka Garza, took advantage of the size mismatch, dropping 29 points in the game despite missing his first five shots. 
The 6-foot-11-inch junior paired his scoring with 12 rebounds: a double-double.
North Florida's starting lineup scored 64 of the team's 68 points, including 43 combined points from the team's seniors (Ivan Gandia-Rosa, Wajid Aminu and JT Escobar). The team's bench struggled, making only 1-10 shots combined.
The Ospreys' Big Ten opponent knocked them down to 4-2 on the season, slowing their hot start.
The Birds of Trey will travel to Omaha, Nebraska to play Creighton on Sunday, November 24. 
__
For more information or news tips, or if you see an error in this story or have any compliments or concerns, contact [email protected].