New CDC guidelines ease some concerns UNF faculty members raised
Earlier this week, several UNF faculty members relayed in an email sent to all UNF faculty that they were troubled by UNF's change to their mask policy which no longer requires masks to be worn on campus. A day later, the CDC updated its guidelines stating that people fully vaccinated against COVID-19 no longer need to wear masks indoors or outdoors. This eased much of the UNF faculty members' concerns about UNF's new mask policy, however, there is still some apprehension.
 The President of the UNF Faculty Association, Dr. John White, sent the following email to all UNF faculty on Wednesday, May 12.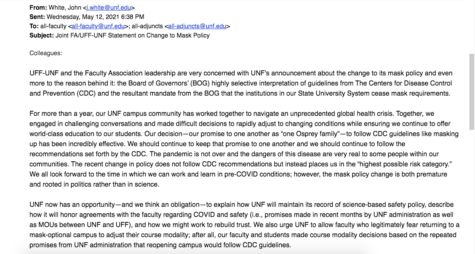 On Thursday, May 13, the CDC lifted the indoor mask guidelines for fully vaccinated people. After this announcement, White stated that much of his and other UNF faculty members' concerns that they noted in the email above have disappeared.
"Our primary concern was that the BOG [Board of Governors] was not—prior to today's change — following extant CDC recommendations or meeting its promise to faculty to do so. While we remain frustrated with the BOG's decision to change the campus mask policy before the CDC changed its recommendations, we are pleased that scientists and health professionals (rather than political appointees) have deemed it safe for vaccinated individuals to forego masks while indoors," White stated.
White went on to say the university must now work towards getting more people vaccinated, especially students, and encourage those who are unvaccinated to wear masks.
"We continue to see college-age students as the demographic most reluctant to get vaccinated. This is bad for the UNF community and for our extended families and friends. We do not want our students and members of their families to face risks because of an unwillingness to get vaccinated or to wear masks," White said.
White explained that he and his colleagues in the Faculty Association hold that the Board of Governors and the State University System need to follow what other universities are doing – make COVID-19 vaccinations mandatory for all students, faculty, and staff. Vaccination requirements for polio, MMR, tuberculosis, etc. are in place at universities, and White and others believe that the COVID-19 vaccination should be one of them as well.
White finished by stating that the pandemic can be brought to end, but in order to do so, it will take "a widespread willingness to do one's part, not just for oneself but for one's greater community."
_____
For more information or news tips, or if you see an error in this story or have any compliments or concerns, contact [email protected].