It's homecoming week at UNF. Here's what you need to know
Homecoming week at the University of North Florida has arrived; made possible by UNF's Student Government and Osprey Life and Productions, each day consists of a new event, all leading up to the annual Ozfestival on Friday — here's what to look out for this week. 
Monday
Stop by the campus Starbucks today with your Osprey 1card to enjoy a free grande drink, beginning at 9 a.m. until supplies last. This might be a day to set an earlier alarm because who could pass up free coffee in this economy?  
Tuesday
Starting at 5 p.m., Osprey Life and Productions and the Flock are hosting the homecoming pep rally at UNF's Arena Plaza to get students excited for the basketball game later that night. Funded by SG, the pep rally will provide free food and games and a DJ will bring the tunes.  
Wednesday
Meet and eat with UNF's basketball team, the Flock, at the Osprey Plaza from 10 a.m. to 2 p.m. to get a free Chick-Fil-A sandwich and merch— don't forget to enter the Ozfest giveaway while you're there! 
Thursday
Cheer on UNF's women's basketball team by attending the homecoming poster-making event at 5:30 p.m. in the Arena Plaza, just before the game at 7 p.m.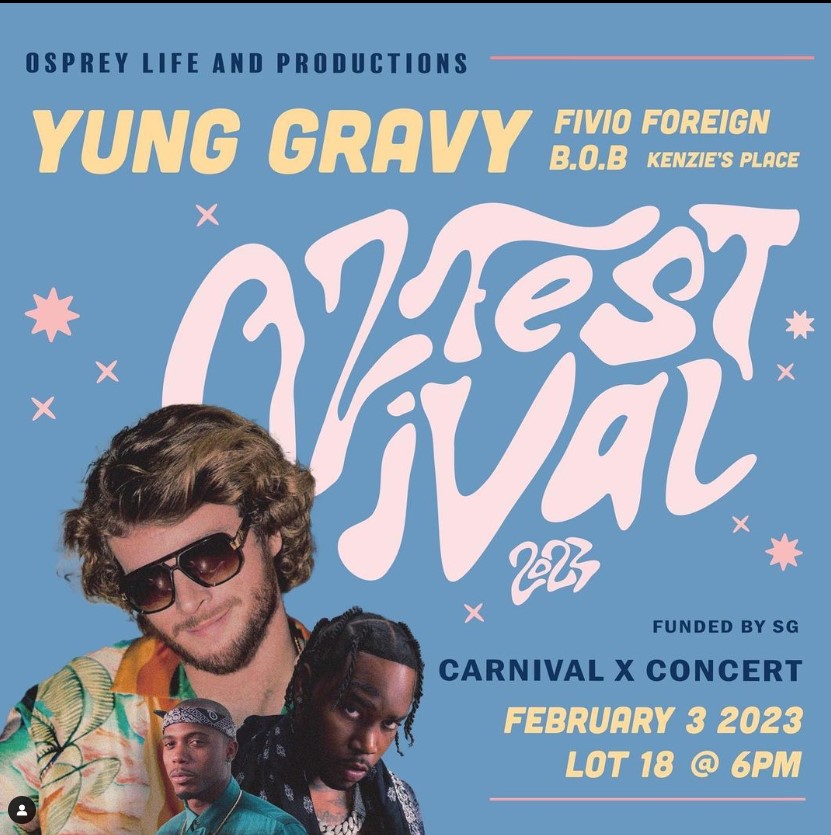 Friday
Finishing off homecoming week is UNF's annual Ozfestival starting at 6 p.m. in Lot 18. This year, there are three headlining artists performing alongside Battle of the Band's winner Kenzie's Place — Yung Gravy, B.O.B. and Fivio Foreign. There's something for everyone. 
 Enjoy food from multiple food trucks like Mayes, Latin Soul Grille, Frozen Sweets, and more. Although, it might be a good idea to ride the various carnival rides such as bumper cars, the firestorm and the ferris wheel before you fill up on food.
 Tickets are free for UNF students and available to claim by visiting the ticket reservation page here. Use your UNF 'N' number as the username and 'guest' as the password unless the account has been used for past UNF events.  
For more information about UNF's 2023 homecoming week of events, visit Osprey Life and Production's website or Instagram.
___
For more information or news tips, or if you see an error in this story or have any compliments or concerns, contact [email protected].