PS27's Female Founders Forum: Meet Kawanza Humphrey and Jaclynn Brennan
The University of North Florida recently hosted the eighth annual PS27 Female Founders Forum to kick off Women's History Month in an event that heard from a range of inspiring women that shared their stories on success, failure and how to navigate the business world as a woman.  
Alongside keynote speaker Sarah Kauss, the founder of S'well water bottles, were Kawanza Humphrey and Jaclynn "Jax" Brennan who each filled the red-filled room with motivation and a sense of community through their personal journeys. 
 Kawanza Humphrey
 Kawanza Humphrey is the Chief Human Resources Officer for VyStar Credit Union and sits on the UNF Foundation Board. Over a year ago now, Humphrey moved from Buffalo, New York where she ran corporate responsibility for the east coast region at KeyBank.  
Her winding journey at KeyBank eventually brought her to be reconnected with Brian Wolfburg, the CEO of VyStar who invited her to look at the opportunity that is now her current role.
 She described her transition to Jacksonville as "warm" and in more ways than the weather. 
 "You want to talk about purpose-driven work, VyStar is dedicated to doing good and looking at the investments that are being made in the community and in the employees," Humphrey said. "It's just been humbling to be able to serve in this way." 
As the Chief Human Resources Officer, Humphrey is responsible for compensation and benefits, learning and development, talent acquisition, employee relations and cultural work via diversity, equity and inclusion (DEI).  
She explained that there is often a heavy emphasis on the "D" of DEI, by diversifying staff, and while tremendous strides have been made in that area, Humphrey said it's also about the culture of a company.  
Humphrey explained the importance of creating an environment where employees feel they can be their authentic selves and creating opportunities for learning and support of each other so there's a real sense of belonging.  
"That looks like everything from a Lunar New Year celebration that we just hosted all the way to the external work that we do," Humphrey said. 
Her team recently helped with launching a credit union in Eatonville, Florida, the oldest African American municipality in the United States. VyStar provided Eatonville with some of the resources needed to open the credit union which will help solve a financial desert the community was experiencing. 
Being a successful woman in business, Humphrey recognizes the power of investing in women by providing fair and equal opportunities to everyone. She explained that there are nine members in VyStar's C-Suite, the executive-level managers. 
 "Four of us are women, and three of us are single moms," Humphrey said. "To be able to show up that way and have a village of coworkers that understand, it has had a tremendous impact on me. I think it's also important to our employee base that they can look up and see themselves." 
Amid a year of devastating events in Humphrey's life, she gave birth to her son who was born as a micro preemie at one pound, ten ounces, while being in critical condition herself due to experiencing preeclampsia, one of the leading causes of maternal deaths in women, and even more so, women of color.     
She said the experience taught her that you don't have to be the smartest person in the room all the time, but you have to ensure that you're using your voice to surround yourself with experts. From there, it's your responsibility to listen, trust, read and then discern what the best path is moving forward based on the knowledge you've taken in. 
 "Finding my voice and how to advocate for his medical care during that time, really impacts the way I show up in the C-Suite," Humphrey said. "Even though that was a medical situation, it was applicable to how high-functioning teams can work together." 
Based on her own experiences, Humphrey's advice to UNF students is to take the time to try out the workforce to determine where they best fit. She explained that internships are critical for someone starting out because it provides the chance to explore different environments and navigate which cultures they want to belong to and feel good in. 
"If I were speaking to my younger self, I would say just don't be afraid. It's all going to work out and the best things in life are placed on the other side of fear." 
Jaclynn "Jax" Brennan
 Jax Brennan is the CEO and founder of Fylí, a Network as a Service (NaaS) business for early-stage female founders, offering education, accountability, mentorships and funding opportunities.  
Brennan came from working as a creative director in corporate fashion and left to start a technology software company for the fashion industry, which ended up failing. That failure led her to realize that as a female founder, she often found herself needing more resources, guidance and accountability as she was trying to grow and scale a company, thus she created Fylí to help women in ways she needed when starting out. 
Fylí has a global community network of over 11,000 women who have gained the confidence, resources and capital to expand and grow their businesses beyond what they thought was possible.  
She emphasized the importance of having a tribe or community of women to have a support system you can share ideas and strategies with and pick you up when you're feeling down or defeated.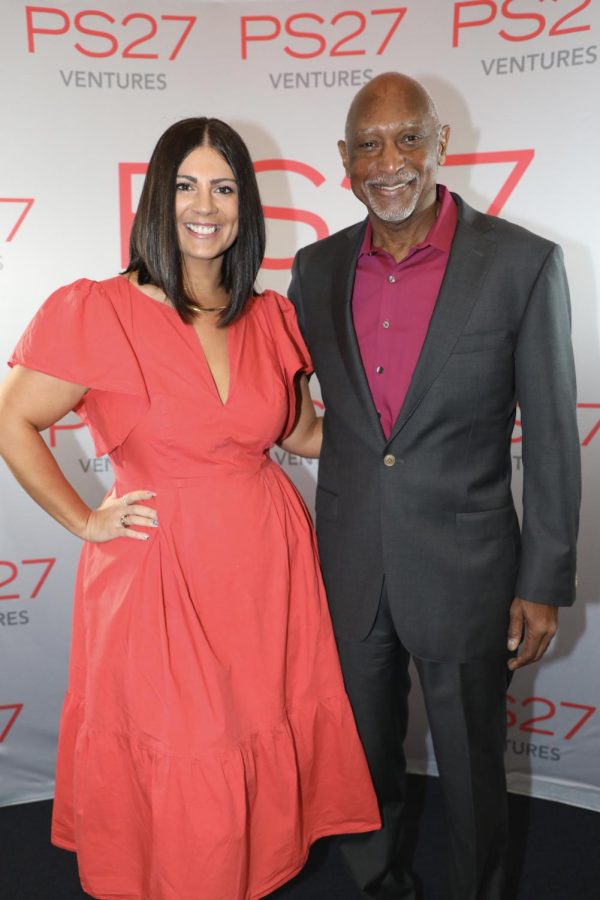 One of the biggest obstacles she faced creating Fylí was imposter syndrome, which she described as that negative voice in your head telling you you're not good enough, not worthy enough. Part of combatting those voices includes taking care of your physical and mental health to help build resilience and reduce feelings of self-doubt. She suggested making time for small activities that bring joy and relaxation into each day like dancing, meditation or whatever feels good.
 "Challenge your negative self-talk," Brennan said in her speech. "When you start to doubt yourself, challenge those thoughts with evidence that contradicts them." 
One roadblock she has noticed is the lack of funding and representation for female founders. She said less than 2% of venture capital is going to women and less than 1% to women of color. But Brennan likes to focus on the positive statistics: on average, female founders are exiting startups one year faster; when venture capitalists invest in women, they make more money. 
"Helping women raise capital in a really tough market, helping to encourage women to be early-stage entrepreneurs and founders and helping them grow their companies, it's a challenging business," Brennan said. "And when I see those wins, no matter how big or small, it just makes me feel that I'm walking the right path to help empower other people in their purpose in life." 
Brennan offered UNF students three pieces of advice: 
   

"The word 'no' doesn't hurt. When we make informed, educated, intentional asks, we go further faster, so ask for what you want and what you need.

   

Make sure you're getting a mentor and you're building your tribe and community around you.

   

Stay authentic. Stay true to yourself and your core values. 
As we go through Women's History Month and celebrate International Women's Day, valuable lessons can be learned from both Brennan and Humphrey about the world of business, how to keep showing up after failure and the power of investing in yourselves and other women—in and out of the workforce.  
___
For more information or news tips, or if you see an error in this story or have any compliments or concerns, contact [email protected].