The University of North Florida Board of Trustees met Wednesday to approve a new honors housing project and heard an update from the university president on student trends and the recently implemented SB 266.
Scott Bennett, Vice President of UNF's Administration and Finance, and Jeff Chamberlain, Dean of UNF's Honors College introduced a new honors housing plan to open in fall 2025, which was approved by the Board of Trustees. It now heads to the Board of Governors and the Governor's Cabinet for final approval.
Located adjacent to Osprey Fountains, the new honors housing would create 521 beds, roughly a 15% increase from the current honors bed count.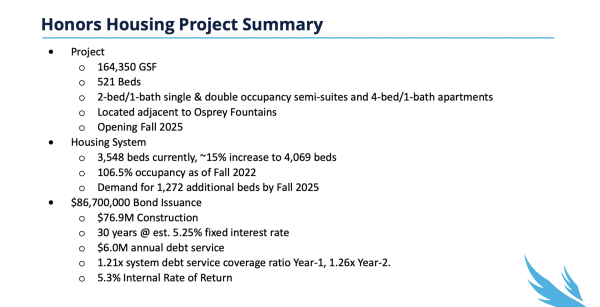 Bennett explained there is a current 106.5% occupancy in housing, and a demand study predicted that at the current rate, UNF would see a 1,200-bed shortfall in 2025.
"A living learning center can be a very powerful high impact experience. And we want to expand that and to be able to bring in more of these really high caliber students who raise the bar across campus and who can have a genuinely transformative experience while at UNF," Chamberlain said. 
The project requires an $86 million dollar bond issuance, with almost $77 million of that going toward construction.
First-year student trends
As of July 7, summer 2023 enrollment is at 10,405 students, a 5% increase from summer 2022, UNF President Moez Limayem explained. Out of state enrollment is also up 17% compared to last summer.
First-time in college enrollment in summer 2023 is up 433 students compared to last summer, which the president said is largely attributed to the new Osprey First Pathways program that was introduced to eligible students this summer. 
Like the recently canceled QUEST: First Flight, a six-week extensive orientation for minority students, Osprey First Pathways was designed to ease the transition between high school and college.
In Osprey First, students engage in activities while completing coursework designed specifically for the program. The objective is to support the success of students who are admitted with lower high school GPAs and test scores.
Upon successfully completing the six-week comprehensive orientation, students are offered a $500 grant for their fall semester.
"We will wait."  
Limayem also provided the board with an update on the recently effective SB 266, a law that, among other things, prohibits Florida state universities from spending state and federal funds on diversity, equity and inclusion programs. 
The president explained that the university is still waiting for guidance from the Board of Governors on how to comply with the law.
"As of today, we did not change anything per the BOG guidance and we will wait," Limayem said. "However, we are talking to staff to make sure that we are ready, and we provide them with other options for employment at UNF."
He said that while there is no doubt that there is a "little bit of anxiety here," the university is trying to be transparent and communicate as much as possible. 
A "little bit of anxiety" just scratches the surface of faculty concerns over SB 266. Earlier this month, Florida's largest faculty union, United Faculty of Florida, released a letter outlining guidance for how to best follow the law, telling faculty to "document evidence of SB 266 impacts" and to "comply now, grieve later." 
The letter encouraged members to get involved, while saying  "it is also clear that the situation in higher education will get worse before it gets better." 
As of now, Limayem said, there have been no human resources changes.  
The board also approved Dr. Jennifer Kane, Interim Dean of College of Education and Human Services' request to apply for the college to become an approved site for a Florida Postsecondary Comprehensive Transition Program in order to leverage a grant.
Called the Osprey Flock Program, the transition program would offer students with intellectual disabilities to have access to meaningful postsecondary education credentials and be afforded the opportunity to have a meaningful campus experience.
___
For more information or news tips, or if you see an error in this story or have any compliments or concerns, contact [email protected].