It was just before 8 a.m. when the University of North Florida's seventh president arrived at the Riverplace Tower's Skyline Room on Wednesday. About 20 people were already there, ready to hear from Cuppa Jax's latest speaker, Moez Limayem.
Cuppa Jax is a local organization that holds gatherings for neighborhood and community leaders to discuss issues facing Jacksonville. The conversation, for the most part, focused on UNF's role in the River City and how local leaders could partner to increase their involvement. 
In attendance were Jacksonville business leaders, UNF alumni, educators and more. At least one knew the president for a decade, from when he was dean of the University of South Florida's business college.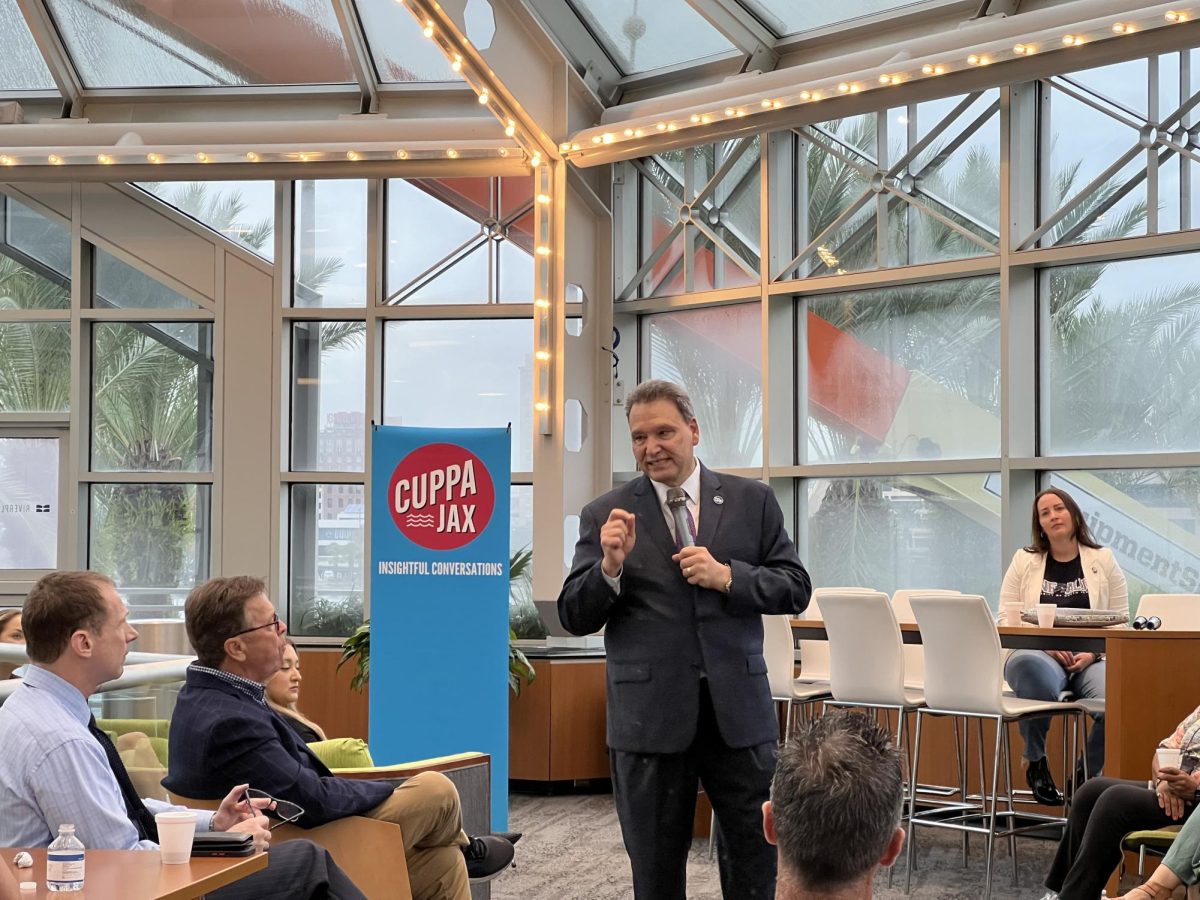 Even before officially taking on the role, Limayem's promise has always been to hit the ground listening first. He recently celebrated his one-year anniversary as president. Since taking the helm, he's made good on his promise and recently launched a new strategic plan that outlines the university's goals for the next five years. Yet, even though the plan is finalized, it doesn't mean he's done listening. 
For the better part of an hour, Cuppa Jax attendees asked the president questions that covered a wide variety of topics: 
How does Limayem plan to help the university grow? Will UNF ever add a medical school? How is university leadership balancing new guidance from the state with student and faculty concerns? Will they ever fund a football program? What are Jacksonville employer's needs, and how can UNF help? How can businesses support and collaborate with the university beyond monetary investment? 
Those are just a few of the many questions Limayem fielded. Here's a recap. 
Supporting student success with physical and academic infrastructure additions
A key goal of UNF's strategic plan is to grow the student population to 25,000 by 2028. Currently, the university enrolls approximately 17,000 students, the president told attendees on Wednesday. Such a significant increase is something that would have to go hand-in-hand with infrastructure and staffing additions if UNF is to meet its goal. 
One of the biggest challenges to overcome is in housing, Limayem said, specifically having enough room to accommodate students. He noted that UNF is working on a new honors dorm to add about 500 more beds to on-campus housing options. Since it was only recently approved, there is a tentative timeline for the construction but no hard final completion date yet.
Beyond physical additions, the university will also need to increase its number of faculty and staff. Small class sizes are a feature that attracts many students. The current student-faculty ratio is 19:1, according to the U.S. News & World Report's profile of UNF. 
The president emphasized that the 25,000 student goal was not a number simply plucked out of the air; it was researched heavily by his team and deemed the most feasible with the current infrastructure. 
Of course, there's also the matter of retainment, not just with students but also with faculty and staff. For students, this looks like focusing on student success and funneling them toward employers in the area with competitive salaries. 
With faculty and staff, this looks like higher wages, a pain point for the university and one they've worked to alleviate since Limayem took office. On Tuesday, the president announced a 5% raise and extended vacations for eligible faculty and staff. It's the second year in a row faculty and staff have received such a raise. 
Emphasizing a message of unity
The university is effectively stuck between a rock and a hard place. On one hand, they must comply with whatever laws and guidelines are passed by the Florida legislature and Board of Governors. On the other hand, faculty are calling on them to protect them from what many have called "the most hostile and violent attack on faculty," in the words of Tobias Huning, the president of UNF's faculty union UFF-UNF.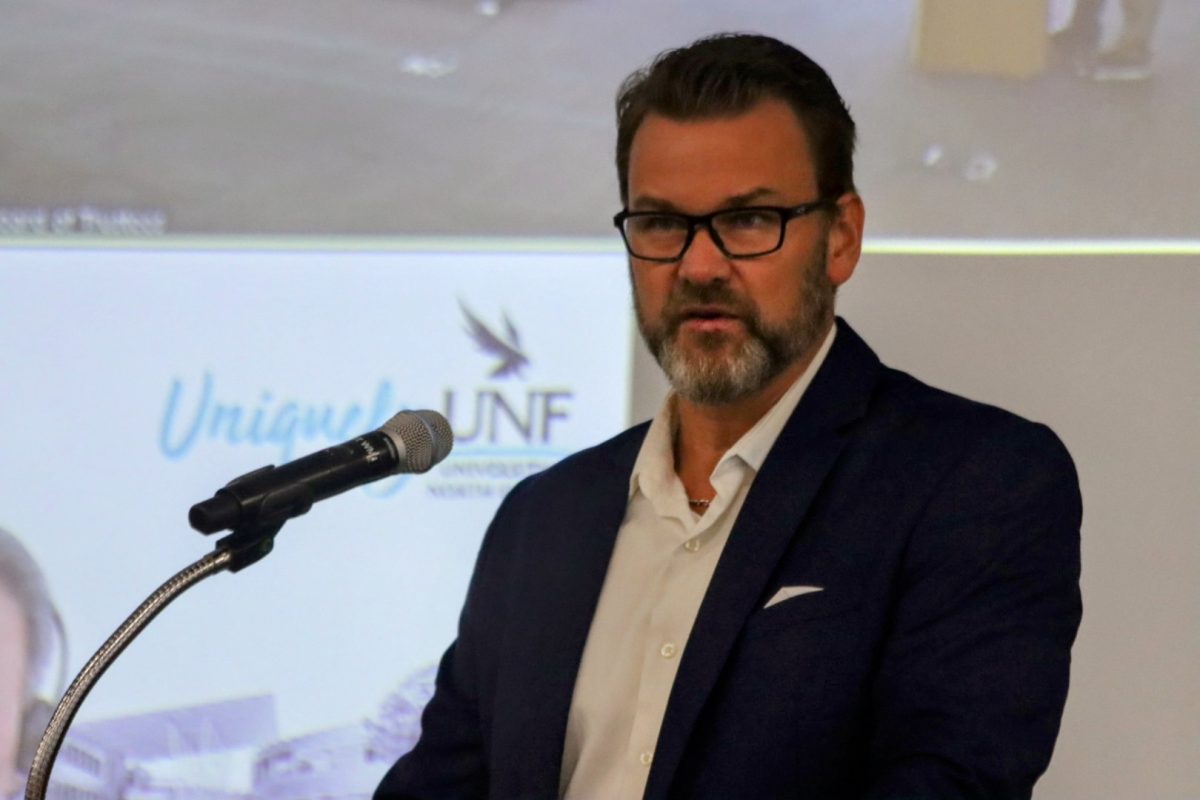 Most recently, the university Board of Trustees approved a post-tenure review policy without agreement from the union. This policy is required by the BOG, and is not something suggested by the university. 
Faculty have painted a grim picture for the future of Florida education, warning that policies like post-tenure review will lead to a mass exodus of educators from the state's higher education institutions. And at least in the eyes of at least UNF's faculty union, it's already happening.
However, Limayem told community leaders on Wednesday that UNF and Jacksonville as a whole need to look at the data and understand the issue first before looking for possible solutions. 
For businesses looking to collaborate, Limayem said that there are other ways local businesses and leaders can support students besides more money. Donations aren't off the table though, he joked. 
"We are always in need," he said, and the university is always looking for ways to partner with those who will help UNF succeed. 
Football isn't in the cards, but maybe. . .
The age-old question "Will UNF add a football team?" made yet another appearance. Bluntly, Limayem said that at the university's current size, adding a football team would be "suicidal."
Because Athletics cannot be funded by public money, he said, it would have to come from student fees or philanthropy, something that UNF doesn't have enough of. However, his answer wasn't a hard no like in years past. It's something that the university is "always monitoring," he said.
"When the time is right, we will do it and we will do it the right way," he hinted. "Just not now."
However, current students probably won't be seeing football on campus any time soon. Similar to the football question, Limayem was also asked whether a medical school is in the plans. 
Simply put, a medical school isn't on UNF's immediate horizon, the president said. The current need from the local healthcare community is for nurses and physical therapists, something the university has strong programs in already. Limayem said they're pushing resources that way. 
At the end of the day, the president said he has student success at the forefront of his mind. 
UNF's dream, and his dream, is to be the destination of choice and the magnet for students, faculty, employers, philanthropists and legislators to "continue investing in this great university," he said.
___
For more information or news tips, or if you see an error in this story or have any compliments or concerns, contact [email protected].