After a lengthy discussion on the purpose of funding requests from University of North Florida student clubs and whether Treasurer Michael Barcal's proposal was truly a limit, Student Government's Senate denied it in a close 6-0-7 vote Friday afternoon. 
Before the vote, Barcal and Attorney General Anthony Balsamo gave a short presentation to senators about why they made the proposal. There was one main theme: to give an equal opportunity to all RSOs. 
Funding challenges
There are over 193 registered student clubs this fall, according to their presentation. It'd be great to fund every club, Balsamo said, but SG is running out of money and "running out of money fast."
SG allocates a certain amount of money into an account specifically for special funding requests which, before this meeting, was at approximately $46,000, according to a presentation from Budget & Allocations Committee Chair Jonah Vazquez. 
Earlier in the meeting, the Senate approved the Swoop Troupe's request for approximately $23,000 in a 12-1-3 vote. They also approved the Club Volleyball's request for approximately $6,000 in a unanimous 13-0-0 vote. 
With those requests approved, the special request account sits at approximately $17,000, according to Chair Vazquez's presentation. That account will be available for the entire fall and spring semesters until the end of the fiscal year. If the special request account is completely empty, the Senate can still allocate money from its fund balance, senators explained during the meeting.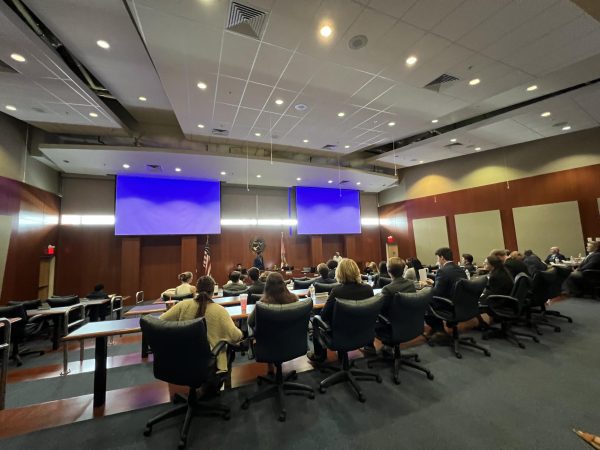 Supporting students 
Beyond monetary concerns, many senators were concerned about supporting RSOs in the future once SB 266 guidance is finalized. SB 266 is a new law that limits what kinds of and how much money Florida universities can put toward DEI initiatives and programs
The Board of Governors released a draft of their SB 266 guidance. The policy is not yet finalized, UNF President Moez Limayem wrote in a campus-wide email, but they would later provide more information on how it will impact campus in the future. 
There is the potential for RSOs to pick up some of those DEI office roles, according to Senate President Pro-Tempore Alex Mendoza-Hernandez. He expressed his concern to the body about how this limit could impact RSOs down the road. 
However, not all members were convinced. Senator Alden Kliem said that the proposed limit wasn't truly a limit on student clubs. Senator Kliem proposed an amendment to the bill that would require three-fourths approval from the Senate to approve funding requests over $7,000.
"If we're talking about a limit, it might as well be a limit," he said. 
His amendment was firmly denied in an 11-0-1 vote. 
Senator Elizabeth Kramer, who also serves as the sergeant of arms of the Senate, argued that the proposed limit would ensure RSOs requesting funding have the "tenacity and grit" to get funding from SG. It would give clubs the incentive to find funding by other means, she said. 
Ultimately, the vote was incredibly close, but the proposed revision to Title VIII was denied. 
___
For more information or news tips, or if you see an error in this story or have any compliments or concerns, contact [email protected].