UNF's Brianna Frazier to race in track national championship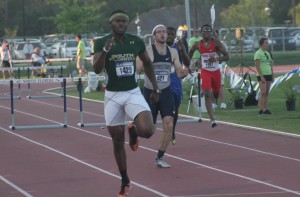 Fans filled the stands at UNF's Hodges Stadium Friday night to see some of the fastest track athletes compete in the NCAA East Regional track meet.
False starts and athletes falling at finish lines heightened the tension, and runners waiting to see if their names would come up as qualified on the score board.
Despite the gust of wind the last 100 meters of the 400-meter dash, UNF's Brianna Frazier qualified to compete in the national championship meet at Drake University in Des Moines, Iowa, with a time of 52.48 seconds.
Kemar Hyman, a Florida State University senior, ran the fastest time of 10.11 seconds in the 100-meter dash and plans to compete in the Olympics after running in the national championship.
"Track and field is 80 percent mentality," Kemar said. "I got my mind right and went through strenuous training."
David Aristil, a University of South Florida senior, won the 400 hurdles in 49.60 seconds, an Olympic-qualifying time and his career best.
"I just knew I was racing against some fast guys," Aristil said, "and if I got past them, I knew I'd run fast."
Frazier, a criminal justice sophomore, qualified in the preliminary round of the 200-meter dash and will compete Saturday, May 26, to try to qualify for the 200-meter finals.
Saturday is the final day of the meet and will conclude with the 4×400 meter relay.