Student investment group outpaces market trends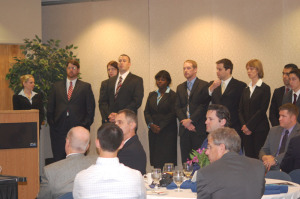 Osprey Financial Group, an independent student-run investment entity, reported its annual earnings for the 2008-2009 fiscal year April 14 in UNF Hall.
When OFG began actively managing the fund Oct. 22, after more than two months analyzing market conditions and trends, it decided to adhere to a fiscally-conservative investment approach and maintain its capital in cash rather than invest actively in the market.
Due to its investment strategy, which ultimately proved correct, the group reported a 1.88 percent gross return.
Between Oct. 22 and March 31, the portfolio was actively managed by the students.
Before the students began actively trading, they went through an 80-hour training course in the financial software system Bloomberg, performed a in-depth market analysis and established an investment strategy, said Reinhold Lamb, UNF professor of finance and adviser to OFG.
The group grew the fund from $722,649.45 to $736,209.23 in absolute dollars.
After management fees the fund earned $9,284.51, or a 1.28 percent net profit.
During the same period, the benchmark, which is comprised of a rating formula incorporating the Standard & Poor's 500 index, the Morgan Stanley EAFE Index and the Barclays Aggregate Bond Index, decreased by 10.01 percent.
The fund outperformed the benchmark by 11.29 percent net, according to a report released by OFG.
Citing recent economic recovery programs under the Bush and Obama administrations, Maggie Barnes, graduate student with a Masters in business administration, said  the market was too volatile, and because of this the group decided to preserve more than 80 percent of the fund's capital in cash.
During the six-and-a-half years since the fund began, OFG has earned $236,209.23 to its portfolio, a cumulative return of 47.24 percent and an average return of 6.13 percent.
During the same time period, the benchmark produced cumulative return of 6.45 percent and an average return of .98 percent.
E-mail James Cannon II at [email protected]