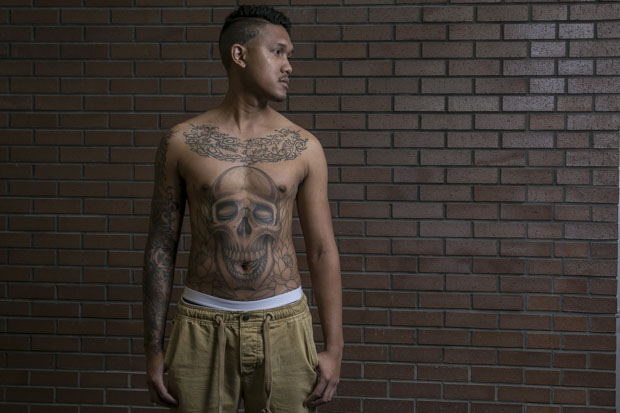 Disclaimer: the answers in this interview have been altered for length and clarity.
It was a crisp, cool morning when I spoke with Will Buenavista, a 23-year-old fine arts junior at UNF. After walking through the doors of the Student Union, I looked around for him in the empty food court. He sat undisturbed at a table. Dressed in a grey sweater, he rolled up his sleeves, revealing fluid swirls and designs inked on his skin. He volunteers his skin as an organic canvas to the art he devotes himself to. Buenavista not only appreciates tattoo art, but creates it as well.
Outside of his identity as a fine arts student, Buenavista spends hours at the Florida Velvet Tattoo and Piercing shop, drawing and inking away. He loves food, particularly fried chicken, has owned several goldfish — one of which was humbly named "Goldfish" — and is a lover of the fine arts.
Danae Leake: How did you first get into art?
Will Buenavista: I started as a kid watching cartoons and drawing what I saw. Eventually I just kept going and people wanted me to draw things for them. And then I started taking more art classes so that was real fun.
DL: What kind of characters did you like to draw?
WB: Pokémon and Dragon Ball Z, just the normal era art. The simple stuff.
DL: Do you have a favorite Pokémon?
WB: Ah man, no, there's too many now. The original 150, 151. Those are my favorite. The new ones are just ridiculous now. I can't even keep up with them now.
DL: Do you remember the first time creating something and what it felt like?
WB: It wasn't really creating something, it was more like — my mother bought me this book. It was a watercolor book and all you had to do was add water. It had the pre-drawn pigments within it that made the colors with the water. It's silly, it was like a Pocahontas book. That was the first memory, but I found other drawings I drew when I was a little kid like Batman doodles that look like nothing. It looked like a little chunky man with horns.
DL: Was it the type of coloring book that comes with a brush to dip in water to reveal the pigment?
WB: The book came with a basic paintbrush and then you just dip it in the water and then move it on the page. The colors eventually came up.
DL: How did that make you feel?
WB: I thought it was dope, but I haven't seen anything like it since. That little book. I don't think they make those anymore.
DL: What other media did you fiddle with?
WB: I didn't start painting until high school, but I wasn't really exposed to it. I just had pencils and paper at the house. The courses I took in elementary school, I didn't remember anything from that time. I remember sculpting and making little jars as a kid. When I got to college, I had more money and was exposed to other art media.
DL: How did your freedom in college influence your art?
WB: It was pretty much the same thing, but on a bigger scale and with more talent I guess. I dabbled back in the day and I didn't know what I wanted to do with art. In high school I took art classes, but I was also in marching band and played guitar. I just wanted to have fun. Everything got serious when I went to college. Recently, I've been painting more using oils, but when I first started at UNF I drew a lot of charcoal drawings of self-portraits.
DL: What is it about fine arts that's more appealing to you?
WB: It's more tactile, you can use your hands. I like things you can actually touch rather than sitting at a computer to make things. It's more rewarding for me to draw or paint something from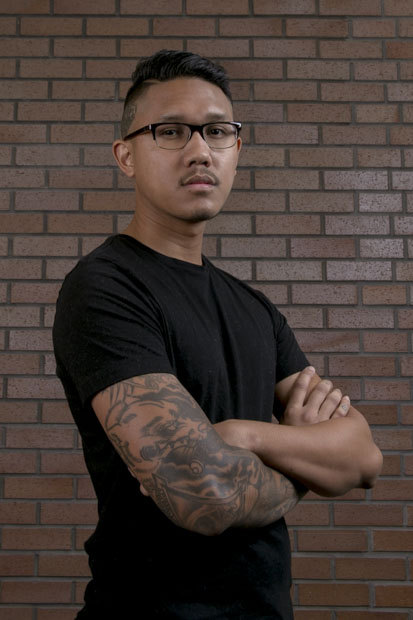 scratch.
DL: When were you ready to use the tattoo machine?
WB: It was later in my apprenticeship; I wasn't in a rush. I mean, most kids are like "I want a tattoo now," but it's like anything else in life — you have to be patient. It wasn't until late 2011, maybe early 2012, when I started. I was just playing around with the tattoo machine. What happened was, I came into work one day and one of the artists, Shawn Abel, was like "Will, I want you to give me a tattoo." Like I said, I didn't know how to hold the machine. I was too focused on drawing and figuring designs out. I drew a simple rose on his leg. It was super scary, one of my scariest moments in tattooing — my first tattoo. I mean I've seen it recently and it looks like crap.
DL: I'm sure it's difficult to transition from drawing on paper to skin. How difficult is that?
WB: Well, it's not you, you're holding another person while you're trying to stay steady. The concept of putting ink into the skin is way different than pulling a pencil across a piece of paper. It's funny because it's harder to draw a straight line on paper for me than pulling a straight line on skin. Some things are easier, some things are way harder.
As a fine artist, you get stuck in your ways. With tattooing, there are particular rules to follow to make a great tattoo. There are a lot of principles, which as an artist, when you're drawing and painting you can do whatever you want. Like OK, that's art. That's cool. We accept it. But with tattoos, it's not procedure–it's the way you approach it. There are certain ways to draw things. For example, you can't draw a lot of detail in a small area, because over time the ink will spread and then it'll look like crap.
DL: What do you think is the best experience you've had as a tattoo artist?
WB: I guess it's one of those gratifying moments where I didn't even draw the tattoo. During my apprenticeship, I just started drawing all these tattoos and eventually, I started seeing my designs on people's skin. They came in, I drew it and it was pretty cool. Another moment was becoming my own artist. Florida Velvet is actually a brand new shop and doing my own thing was a big milestone.
DL: What are your views when it comes to tattoo art and body art?
WB: I mean, at least with our generation, it's not as taboo as what our parents think. I think it's like a necessary evil. Well, not an evil per se, but at least our parents, or the society, that views it as taboo. For a lot of people, it's just another form of self-expression without having to speak. You know, you'll see someone from across the room and you'll be like "Cool, he likes tattoos, he'll be more open to certain things."
At least for me, I was always an introvert and kind of shy. I always wanted a tattoo during my apprenticeship and I just felt naked. I was never into shoes or fancy clothes. I just wanted to get tattoos.
DL: Why do you think people get tattoos?
WB: For many reasons. Most times, it means something personal to them. Other times it's for show. Most of the time, there are things that look appealing. Designs we just want on our bodies forever.
DL: How many tattoos do you have and what do they represent for you?
WB: Just things over time, they don't represent too much. They're not super deep or anything like that. I have a full sleeve on my right arm, my whole front torso, from my collarbone to my waistline, is covered. I have tattoos on both legs and a tattoo on the side of my head.
As for meaning, I just found a couple of images during my apprenticeship that were suiting to me. Do you want me to explain the tattoos? Here, I have Medusa's head because I was really into Greek mythology as a kid. It's kind of cliché, but I have a dragon's head on my forearm.
DL: Is that a koi fish?
WB: Actually, it's just a goldfish. Growing up, my family wouldn't allow me to have animals, so I would always just get goldfish. You know, I would go to the fair and you know the game with the balls you throw in the bowls? I got me some goldfish.
DL: What was his name?
WB: Goldfish. I mean I had three at the time.
DL: What other tattoos do you have? What's this? (points to finger tattoos)
WB: Oh yes, my finger tattoos. I have "Olde Soul" written on my fingers, spelled with an E. Even though I was one of the youngest in my group of friends, I was always mature. I always knew what I wanted to do. I try to plan my life four to five years ahead. I want to make sure I will be alive and successful, I guess. I have the sun and the moon on my pinkies.
DL: What do you envision for yourself in the future?
WB: In the next few years, we plan on opening another shop, more central, hopefully near the Downtown, Riverside or San Marco area. That's what I really want, because a lot of people look at downtown and think "It's alright." Our urban core isn't too strong. It's just a lot of businesses and small shops there. There are a lot of bars too.
I've always liked Jacksonville and a lot of people want to get away from here. I enjoy it. It's all about people you know. People complain that it's boring but there are a lot of cool places to go.
As far as the future goes, I still want to tattoo even when I'm old. I don't really plan on retiring. Other than that, just own a couple of shops and jump around between them and manage them to make sure everything is going alright. I plan on owning a couple of shops. That's my main strive for right now, to have tattoo shops in the future.
—
For more information or news tips, contact [email protected]; if you see an error in this story or have any compliments or concerns, contact [email protected].