Ospreys stand tall against Stetson as final regular-season match looms

The North Florida men's tennis team remains undefeated in conference play after a 5-2 victory over Stetson on Thursday afternoon, April 2 in the UNF Tennis Complex. The Ospreys (16-4, 5-0) were positioned at No. 69 in the March 31 release of ITA Division I rankings and are currently dancing with the notion of a third-straight undefeated conference season.
The implications are exciting for a team who has done nothing but climb in the ITA rankings since the beginning of the season. In three months the team has moved three spots starting with a 4-0 victory over the University of Louisiana at Lafayette, which at the time, was ranked No. 66.
Thursday afternoon proved to be another spectacular performance for UNF's doubles teams, starting with the combination of Lasse Muscheites and Zach Goldberg, who wiped the court in an 8-2 victory against their opponents.  The Ospreys would go on to win both of the completed doubles competitions, giving them an energetic edge that would carry over into the singles matches.
UNF's Norbert Nemcsek came on to the court first for the Ospreys in the singles division and defeated his opponent Nathan Debut without much effort. Nemcsek, who is one of just two seniors on the UNF squad, put up a 6-1, 6-2 victory over Debut.
Stetson would get its first points on the board after their 6'3 junior from Lithuania, Laurynas Antropikas, put down UNF's Yannick Zuern in a 6-4, 7-6 (3) hard-earned victory.
The most exciting match of the night for Stetson came at the end when those in attendance witnessed an almost identical previous performance of a Bedford Cup Championship match between Stetson's Graham Ball and North Florida's Goldberg.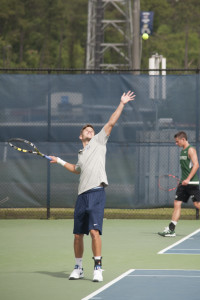 Goldberg, undoubtedly looking for reprisal, was unable to win the match and fell to Ball in a 1-6, 7-6, 1-0 (10-5) tie-breaking showdown.

"I'm so happy for our guys today," UNF Head Coach Mark Finnegan said. "We really showed up to play tonight. Our doubles excelled and we got back on track. It sets us up for a great showdown with Florida Gulf Coast on Saturday."

Florida Gulf Coast University (FGCU) (13-5, 4-0) will have home court advantage in their meet with North Florida on Saturday as the Ospreys travel down to Fort Myers for their final conference match of the 2014-15 season. The Eagles are the only other undefeated team in the Atlantic Sun and will be looking to clinch the top spot going into the conference championship in a couple of weeks.

The next batch of ITA rankings will come out on April 7. If North Florida can pull into the postseason with yet another undefeated regular-season title, expect to see their national ranking reflect that and tick up a couple more spots.

Gallery photos by Morgan Purvis

[doptg id="156″]

—

For more information, news tips, or if you see an error in this story contact [email protected].