UNF Athletics signs seven new players in basketball, softball, soccer and tennis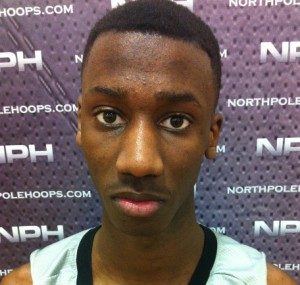 As the spring season wrapped up, seven new athletes signed to UNF during the late 2015 signing period.
Men's basketball picked up the 6-foot-8-inch D'Andre Bernard from Ajax, Ontario, who was a top-10 prospect out of Canada for 2015. Bernard played his last season for Bill Crothers Secondary School where his per game average was 14.6 points, 8.8 rebounds, 3.1 assists and 2.1 blocks.
"D'Andre Bernard is one of those rare hybrid players that UNF fans have grown accustomed to seeing on the floor for us," said North Florida head coach Matthew Driscoll. "Most importantly, he has a tremendous heart and concern for others, which when it's paired with his tremendous abilities on the floor makes him a perfect fit for our program. As he continues to grow physically and athletically his ability to stretch the floor, rebound and defend will allow him to comfortably mesh into our culture."
Another Canadian by the name of Gabby Daudet from Winnipeg, Manitoba was picked up by the Ospreys and will be joining the 2015 women's soccer team. Before signing with the Ospreys, Daudet played club soccer while attending high school at Collège Pierre Elliot Trudeau. Daudet played with the Winnipeg Phoenix Soccer Club for three years and claimed two city championship titles in the process.
"We are excited to get Gabby's commitment to UNF," said head coach Robin Confer. "Not only does she excel in soccer, she is very good academically and was looking for the perfect fit of academics and soccer. Gabby brings another level of speed and athleticism with her pace to run past players. She has a knack for scoring goals and is also left footed, which adds another dimension to our attack."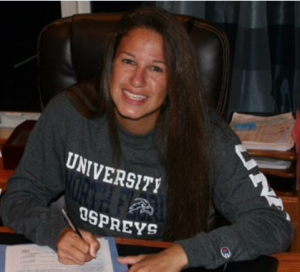 UNF softball picked up Jennifer Valle, who is a transfer student from St. John's River State College. A native of Greenacres, Florida, Valle helped the St. John's River State College to a 33-20 record behind .282 batting average with 7 home runs, 36 RBIs, 8 doubles and 8 stolen bases for the season. Before her time playing ball at St. John's River State College, Valle was a three-year letter winner at Park Vista Community High School Cobras in Lake Worth, Florida, where in 2012, she was a part the Districts Championship team for the Cobras.
"We are excited to add Jen to next year's roster," said UNF softball head coach Marcie Hickey. "She is a fantastic defensive catcher with a phenomenal arm. The combination of Jen and returner Alex Aricola make us a very difficult team to run on. She will also add more power to a strong offensive lineup."
German-born Noemi Hemmerich, 21, will be transferring to UNF as a junior from Frankfurt, Germany to play for the women's tennis team. Hemmerich went to regionals with the SAFO club team in 2013.
"We are extremely excited about adding Noemi to our team next fall," said Head Coach Audra Cohen. "She is a perfect fit for this program and she has the winning mentality I look for in each recruit."
The UNF women's basketball team, under new leadership of Head Coach Darrick Gibbs, has not wasted any time changing the direction of the program by picking up a trio of transfer students just this past week.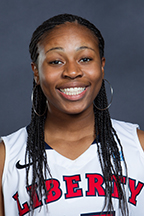 Simone Brown, a native of Land O' Lakes, Florida, is a two-year transfer from Liberty University of Lynchburg, Virgina. While at Liberty, Brown averaged 6.4 points per game. As a freshman, Brown was selected to be a member on the Big-South All-Freshman team. While in Father Lopez Catholic High School in Daytona Beach, Florida, Brown was a part of the 2013 Class 3A state championship team. Per the NCAA transfer rule, Brown will have to sit out next season for the Ospreys.
Claire Ioannidis, a native of Melbourne, Australia, is transferring from Trinidad State Junior College of Trinidad, Colorado. Before coming to the Ospreys, Ioannidis became the all-time leader in assists at TSJC with 202 assists. Last season Ioannidis averaged 16 points per game.
Karrah Johnson a native of Orlando, Florida, is transferring from Santa Fe College in Gainesville, Florida. While at Santa Fe, Johnson averaged 6.1 points per game and 5.7 rebounds per game. Before her college career Johnson was a four-year letter winner at Lake Highland Preparatory School, where she is member of the 1,000-point club.
"I'm really excited about this group of young ladies and the impact they will have on this program moving forward," said Head Coach Darrick Gibbs. "Simone, Claire and Karrah all fill specific needs and have proved their ability to be successful at a high level. Not only does their versatility and strengths fit the up-tempo style we want to play perfectly, but they're also great young ladies who come from great families."
—
For more information or news tips, contact [email protected]; if you see an error in this story, contact [email protected].