Player Profile: Benedikt Haid
Leading up to the start of basketball season, the Spinnaker will be profiling the incoming recruits for the 2016-2017 season.
Benedikt Haid is a 6-foot-4-inch shooting guard from Austria. Haid grabbed Head Coach Matthew Driscoll's attention by sending him emails with links to his game tape on YouTube. He signed a national letter-of-intent in May to play for the Ospreys.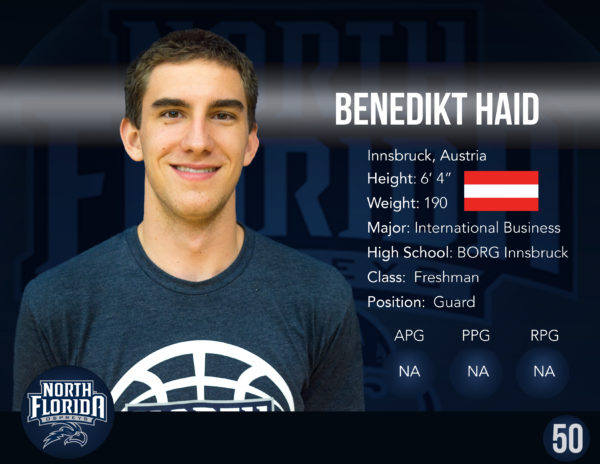 Strengths
Coach Driscoll has an affinity for young players that can shoot the three, and Haid is no exception. Because the international three-point line is a foot behind the NCAA line, Haid is a lethal shooter from way beyond the arc. His explosive lower body also makes him an excellent leaper. On drives to the basket, Haid's head floats tauntingly above less-athletic defenders trying to swat away the shot. He violently attacks rebounds like he's shot out of a canon, rather than letting the ball come to him. In Austria, he finished an alley-oop in nearly every game and displayed excellent control of his body in mid-air. He accompanies his athleticism with outstanding energy and hustle. Despite being the best player on the court in most international games, Haid constantly crashed the boards for rebounds and was the first person diving on the floor for loose balls. That style of leadership forces everybody to raise their game and makes the whole team better.
Weaknesses
One of the most glaring deficiencies in Haid's game is his inability/refusal to finish with his left hand around the rim. He got away with it in Austria because of his superior athleticism, but players in the NCAA are bigger, faster and stronger, and will block his shot into the second deck of UNF Arena. It will be interesting to see how Haid adjusts to "American" basketball. The American game is faster and much more physical than the "Euro" style. American players assert dominance by banging bodies in the post, exposing weak defenders with one-on-one isolation sets and flying up and down the court at a frenzied pace in transition. By contrast, Europeans tend to play a more "finesse" style, with a much slower pace and a heavier focus on teamwork-oriented, half-court offense. Haid needs to drink his muscle milk and mentally prepare himself for a new style of basketball – a challenge many Europeans before him have failed to do.
How does he fit?
I expect Haid to be red-shirted during the 2016-2017 season while he develops and adjusts to a new game and a new country. If Haid plays in the 2017-2018 season, he will be in the backcourt with J.T. Escobar, a pure-scoring point guard who's also lethal from three. Haid and Escobar are the future for the Birds of Trey, but students must be patient.
Comparison
In sticking with the European theme, I'd compare Haid's game to Croatian-born Mario Hezonja of the Orlando Magic. Like Haid, Hezonja is superbly athletic and dangerous from the three-point line. However, in his first season with the Magic, Hezonja struggled to adjust to the speed of the NBA. He had trouble handling the ball in traffic and looked lost at times. Both players have the potential to dominate at the next level, but only time will tell if they ever tap into it.
—
For more information or news tips, or if you see an error in this story or have any compliments or concerns, contact [email protected].