Facebook comments lead to at least one class being cancelled
---
Despite President Delaney's request for students and faculty to remain calm, at least one professor cancelled class in response to a perceived threat from Ken Parker's social media account.
During a heated argument last night, a photo was posted from Parker's Facebook account of him wielding a gun with the comment, "It is okay to be WHITE!!!!! Let SDS and the other clowns come at me, I will shut them down. Fuck the BLM BS!!! I am WHITE and PROUD, and these queer balls have yet to confront me on campus."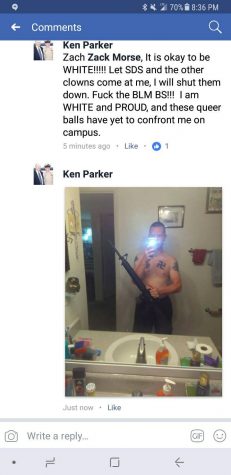 Both the comment and photo were later deleted.
UNF Professor Hans-Herbert Koegler cancelled his Philosophy of the Social Sciences class today in response to the unresolved threats. In a message to his students on campus Koegler wrote, "With a heavy heart (for several reasons, as you may soon see) I have to cancel tonight's class. To not do so would imply that I risk your safety, possibly lives, for the sake of our (admittedly otherwise very important) meeting."
Koegler went on to share a message he received from Chair of Philosophy and Religious Studies Mitchell Haney, who informed Koegler about the alleged threat posted from Parker's social media account.
"Last night on social media a threat was made by a student identified as a former Grand Dragon of the KKK and now an active neo-Nazi toward another UNF student during a heated round of name calling," Chaney said in the message." He posted an image of himself with an assault rifle and subsequently promised to confront a UNF student on campus (as he put it "this is not a threat, it is a PROMISE.)"
The argument, which took place in the comments section of a Spinnaker article on Facebook, included comments from both Parker's account, as well as Zack Morse's account. Morse, who posted a controversial snapchat video that went viral, was at times called out directly in the comments.
Spinnaker contacted UNFPD for a comment, but has not received a response at the time of this posting.
Students took to social media to share that their professors were canceling classes. UNF student Lina Rodriguez wrote, "Okay I am scared now," on her Twitter with a screenshot from Koegler about cancelling class.
Are we living in 2017 ? Not sure. pic.twitter.com/pcy0BhsnyP

— Lina (@linaaamarcela) November 14, 2017
"The reality of this guy possibly sitting next to me or my peers in a class next semester is truly terrifying," Rodriguez said. "It is saddening that this is even an issue. And I️ think this group of people has proven time and time again to be a clear danger and it is time to start acting accordingly and holding them accountable.  I️ personally don't feel safe and I️ know my classmates don't either."
The student who submitted the screenshots from Facebook wished to remain anonymous.
Spinnaker will provide updates as more information becomes available.
__
For more information or news tips, or if you see an error in this story or have any compliments or concerns, contact [email protected].