Anti-Nazi protesters outnumber white supremacists at hearing for suspended student
Any further disciplinary action for Parker is unclear at this time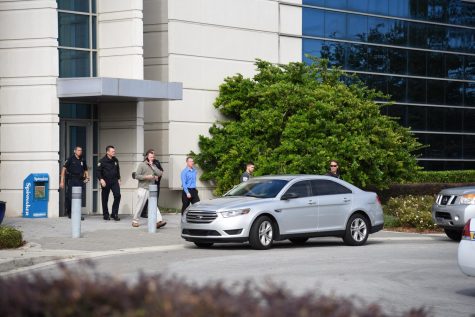 Ken Parker arrived to his conduct hearing this morning to the sounds of protesters calling out anti-fascist chants. UNF students, alumni, and members of Black Lives Matter all flocked to Alumni Hall as he was escorted in by UNFPD. Parker was recently suspended for posting a photo of himself on a Spinnaker Facebook story with an AR-15.
The student conduct hearing was closed to the public and the panel's decision has not been made clear.
Both a support rally for Ken Parker as well as a "No Nazis at UNF" counter protest were held outside of Alumni Hall during Parker's hearing. There were around 100 anti-Nazi protesters and four people supporting Parker. 
Parker told Spinnaker Thursday his appeal would be on the grounds that he did not threaten anybody.
"I take my shirt off and I hold my AR-15 and I take a picture in my bathroom, located off campus, and everybody thinks I'm going to come commit a mass shooting? That's preposterous. I would never do anything like that," Parker said.
According to an email sent out by President Delaney on Friday, "The student will likely be notified of the decision Monday afternoon or Tuesday. Again, this is to determine only if the student should remain suspended. Federal law (FERPA) dictates that the results of a conduct hearing aren't public; however, a student is certainly allowed to make the decision known publicly."
The hearing was moved to Alumni Hall away from the academic core of campus because of the protests.
Spinnaker reached out to Parker for comment but a response was not received by the time of publication. Spinnaker will update with more information as soon as it becomes available.
__
For more information or news tips, or if you see an error in this story or have any compliments or concerns, contact [email protected].