Basketball drops first 6 games, but don't panic yet
The home opener is tonight against Edward Waters College
Don't hit the panic button yet on the 2017-2018 men's basketball season. Despite having a 0-6 record, the Ospreys are closing the scoring gap on each opponent they face. While they show a variety of offensive power similar to previous teams before them.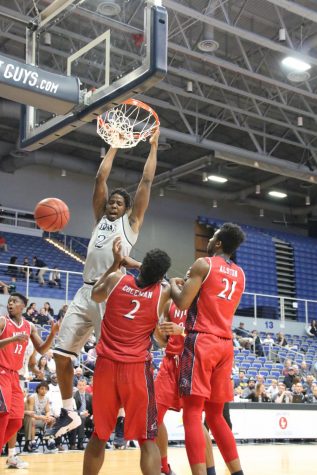 This is a new leading cast of characters that has growing pains to overcome as they figure out their own flow.
Yes there may be less flashy plays and awe-filled acrobatic tricks that leads to layups, but the style of North Florida's basketball hasn't changed. It has evolved.  
Over 3,000 miles have already been traveled with the squad resting their heads in four different hotels so far. 
Compared to previous years, this is the hardest schedule North Florida has faced with the first five match ups begin against teams that went to the NCAA tournament.
On these high caliber teams are players that are potential high picks in the upcoming NBA draft lottery. 
North Florida has endured a road atmosphere in five different cities in a little over a week span just like an NBA team would.
Head Coach Matthew Driscoll sees his team gaining valuable experience under the bright lights, especially after heartbreaking last second defeats in back-to-back games.
"The ability to play with that determination and effort speak volumes about this group of guys who've been challenged with playing six road games in the first ten days of the season," Driscoll said.  
Last season, the squad dropped three of out its first four games. While these matchups were on the road and at home, the Ospreys struggled with a consistent scoring performance from multiple players.
This is not the case for this fresh-faced roster who has five sophomores starting.
Despite no victories, the team has seen multiple players in double digits, even against powerhouse programs.
Transfer student Ivan Gandia-Rosa, the ASUN Player and Newcomer of the Week, has racked up double digits in all six of his starts. He knocked down 19 points against Michigan State before pushing his season-high to 21 points over Wofford.
JT Escobar, who sat out last season to fulfill NCAA transfer rules, had been an asset from behind the three point arch for the team.  
The Ospreys are currently fifth in the nation for its three-pointer attempts, keeping with the trademark play of "Birds of Trey".
Driscoll's starting five consists of these two smaller guys and returning starters Wajid Aminu and Garrett Sams.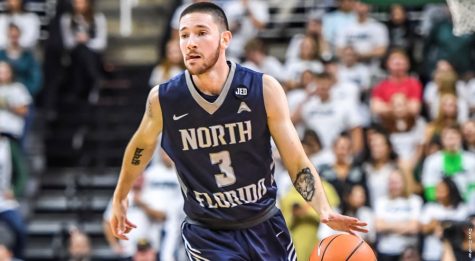 North Florida will truly be road tested when it is time for conference play. Before the calendar flips to 2018, the squad would have played ten teams as the visitor.
Against teams of similar size, the Ospreys displayed their talent in the paint and on the perimeter.
It came down to the last buzzer-beating possession for both defeats in the Maui on the Mainland tournament to Mount Saint Mary and Wofford just one weekend before the return to UNF Arena for their home opener. 
North Florida out rebounded Wofford, 34-27 and dominated in the paint, 50-34.  Unlike other performance this season, the team shot at least 50 percent from the field.
Driscoll highlighted not holding defensive pressure down the stretch a key factor in the last seconds losses.
While there have been miscues early, there is plenty of time for the Ospreys to recover for the 2017-2018 season, especially during conference play and a spot on the line for the tournament.
UNF is 19-6 in home opener during Driscoll's tenure as head coach.  
Men's basketball home opener is tonight  Nov. 21st against Edward Waters College at 7 p.m.
Make sure you follow Spinnaker Sports on Twitter for live play-by-play update and here for game recaps.
After tonight's game they will hit the road again to face Miami.
__
For more information or news tips, or if you see an error in this story or have any compliments or concerns, contact [email protected].